Howdy, folks!
I want to take a brief moment and mention this New York Times article on photographing food that Tiffany posted yesterday. It discusses the huge phenomenon that visual food logs have become, and not just within the realm of healthy living blogs. People everywhere are using photos of their eats as a way of documenting their lives.
The article discusses several reasons why this trend has taken off. Some people say it encourages them to be more adventurous in their dietary choices, and others say it serves as a source of motivation and accountability when trying to improve eating habits. Many photograph their food as a way of sharing their culinary talents and cooking ideas, while others enjoy it because a photo of a meal is essentially a photo of a memory.
But the author also notes that the habit can turn ugly; some people, especially those with obsessive-compulsive tendencies, can become consumed by the practice; they freak out if an undocumented morsel passes their lips.
Reading the article was especially interesting for me because I've been re-considering the way that I document my eating here on Health for the Whole Self. I have found that most of the time I really enjoy documenting my eats; I love food and eating, I love sharing it with others, and I'm really starting to love photography. However, my current set-up – which documents a specific day's worth of food – is beginning to threaten my enjoyment of the process because on the days I have designated "photo food days," I feel obligated to whip out my Canon.
But there's an even more important issue at play. I'm a bit worried that documenting all of my food on specific days is interfering with my practice of Intuitive Eating. I've found that, in honor of the blog, I get ideas for interesting meals and then plan to eat them on a day when I'm photographing all of my eats. But such planning is kind of the opposite of Intuitive Eating, in that it doesn't allow me to honor my specific cravings in any given moment.
So I've decided to change it up just a bit. I'll still be showing a lot of my food, but the posts may be a bit less structured; they won't consistently be a play-by-play of everything I ate in a given day. Instead, they'll be a compilation of meals and snacks that I photographed because doing so appealed to me at that time, or because I truly believed they were worth sharing. So, for example, if dinner was really delicious and I want to share it, I will – even if I haven't designated that day as a "What I Ate" day. Does that make sense?
I think this structure will actually allow the blog to be a bit more creative, which might be fun! Also, I think it allows me to honor myself and my Intuitive Eating journey while at the same time honoring the purpose of documenting my food in the first place – to share with others what a balanced diet really means to me.
Whew! That got a little longer than I intended, sorry, folks! Congrats if you made it this far.
So here's my first little compilation of recent eats!
Breakfast
First up – my very first OMELET!!!
Yes, that's correct, the above omelet is the first one I EVER made! Nothing to ooh and ahh over, I suppose, but not too shabby for my first time!

I filled it with cheese and tomato slices. Next time I will definitely amp up the VEG!
A side o' berries.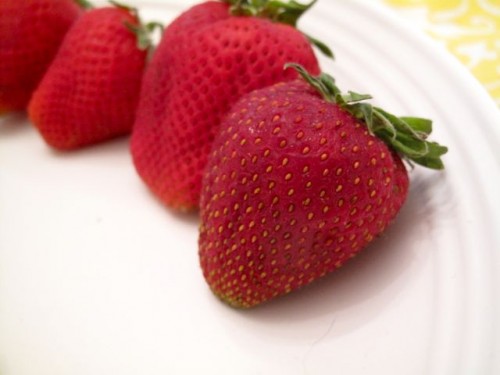 Lunch
Totally random salad I created at the Wegman's salad bar yesterday.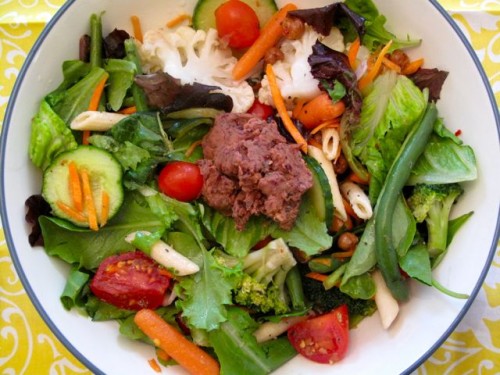 Containing:
spring mix and Romaine
tomatoes
cucumber
carrots
cauliflower
broccoli
green beans
roasted chickpeas
pasta salad with a vinegar-based dressing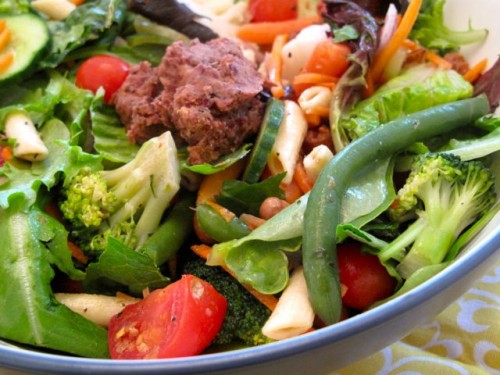 I added a big dollop of my chunky red bean spread to pump up the protein.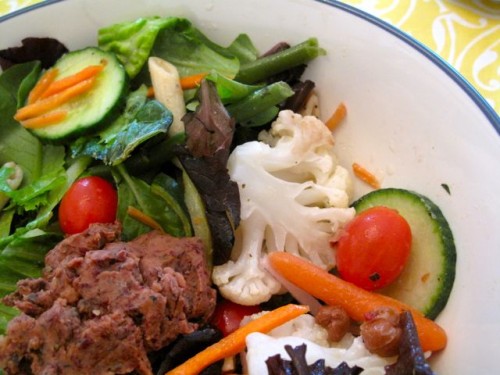 Plus a microwave-baked sweet potato with cinnamon.
Random Snackage
Big bowl of juicy cantaloupe.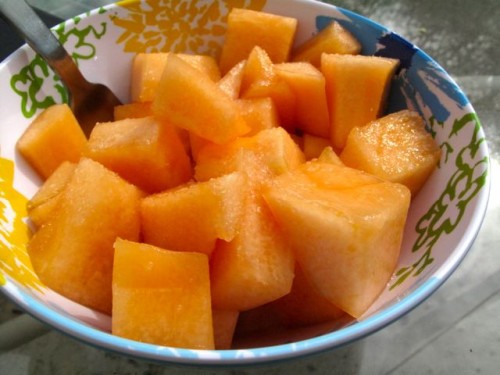 Sprinkled with sea salt. Anyone else put salt on their cantaloupe? Everyone in my family does, so I thought it was totally normal until I went to college and my friends informed me that I'm a nuttzo!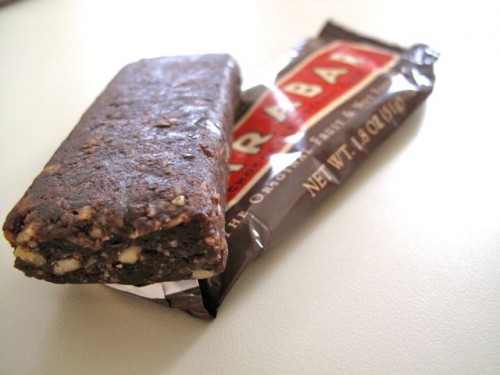 And, in honor of the crazy heat wave my neck of the woods is currently experiencing, some RITA'S!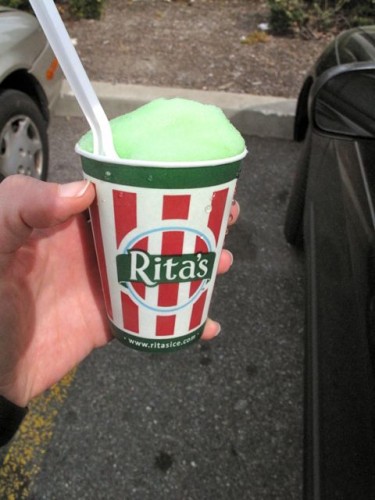 Gotta run! I'm attending my first session of a Creative Writers Group tonight…EEK! Wish me luck!

If you're a blogger, do you document all of your food choices? Why or why not?
AND
What's your favorite flavor of Rita's? I'm partial to the fruity ones – Twisted Melon and Mango top the list. Although today I heard several people ordering mixtures of two flavors, which I've never done before but would like to!

By