Hmmmm, can you guess what I consumed a lot of today?

I hope you are having a wonderful weekend! Mine has been absolutely lovely so far – running, good food, and quality time with my husband. I'm not sure what else I could really ask for!
Breakfast
Sorry, folks, nothing super unique or creative. Weekends are usually a time for special breakfasts, but Dave and I had a run planned, so breakfast was mostly about FUEL.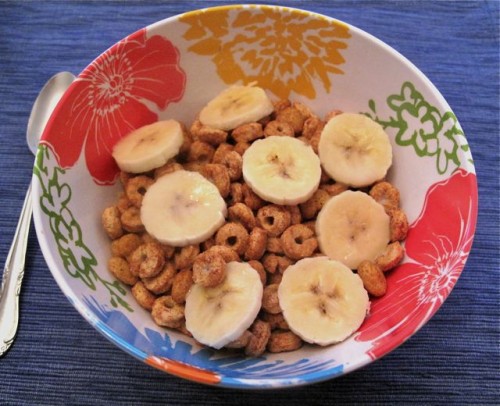 Kashi Warm Cinnamon Heart to Heart in almond milk with sliced banana. In a pretty bowl.

(FYI: I realize in the pictures it looks like my bowl is practically empty, but there are actually two servings of cereal in there. I don't know if I need to get better at representing depth in my photos, or get smaller bowls, or what!
)
After breakfast Dave and I headed out for our run. I usually run alone, so having a partner every now and then is a fun way to mix it up! We went to one of my favorite spots.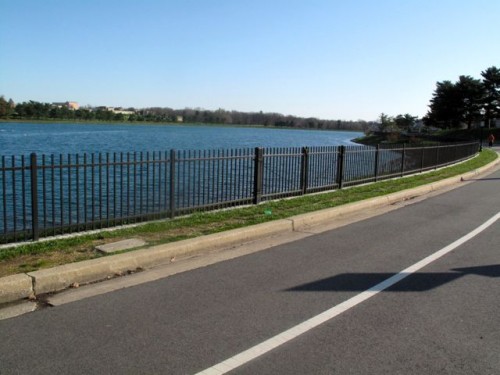 This beautiful lake is only 5 minutes from my house, and it has a great walking/running/biking path surrounding it.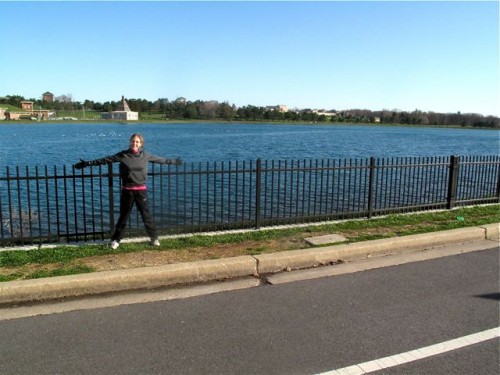 We did 2 loops around the lake, plus about 2 miles on a trail at a nearby park, for a total of 4.75 miles. Sweaty smiles afterward.

I planned on doing a little strength training after our run…and then I didn't. That's been happening a lot lately.
Mid-Morning Snack
After our run we came home and broke into my Glo Bakery stash.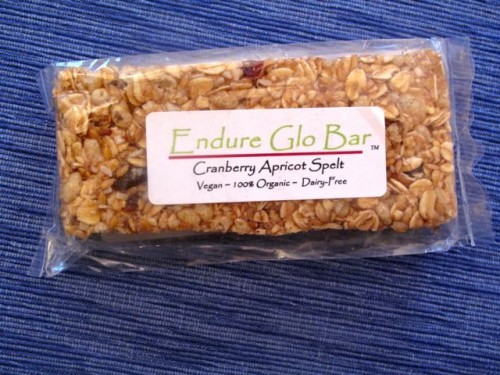 This flavor was awesome! Chock-full of cranberries and apricots.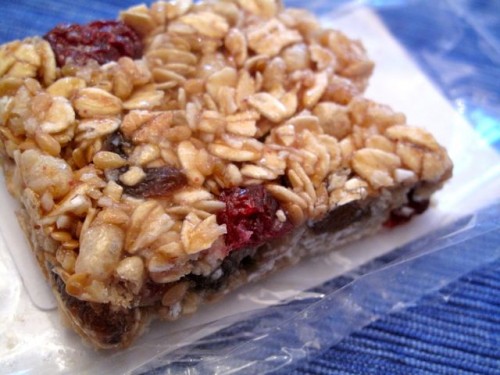 Lunch
Dave and I spent our afternoon checking out a new grocery store. You know you're a foodie when you get incredibly excited about grocery stores, right?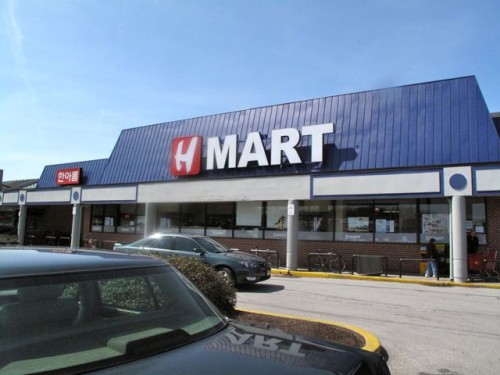 HMart is a chain of Korean grocery stores offering a wide selection of specialty items and ethnic foods of all types. If you can't find it anywhere else, you can probably find it at HMart!
It also has a great little spot where you can order practically any kind of Asian meal. We hit that up before beginning our shopping. Enter Fish Meal #1 for the day…
All I can say is that I ♥ sushi…a lot!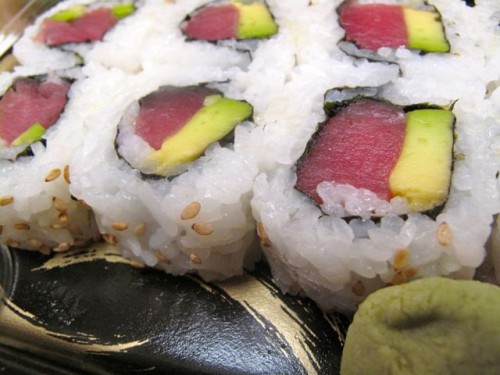 I got a Tuna Avocado roll, as you can see. I also had some seaweed salad.
This was seriously the perfect lunch. I want to eat it again…right now.

Afternoon Snacks
While walking through HMart, we came across free samples of rice cakes that a man was making on the spot. Yes, please!
We walked around the grocery store for a long time. Again, you know you're a foodie if you can happily spend your entire afternoon in a grocery store! We were there for so long that by the time we were ready to check out I was hungry again! So I picked up a container of fresh melon to snack on during the drive home.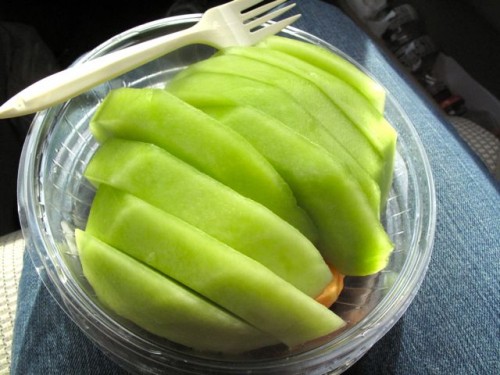 Over the course of the afternoon I ate all of that melon. That's right, all of it.
And some carrot sticks for some extra veg.
Dipped in some white bean puree left over from my white bean/avocado sandwich. Pureed beans make a great dip, by the way!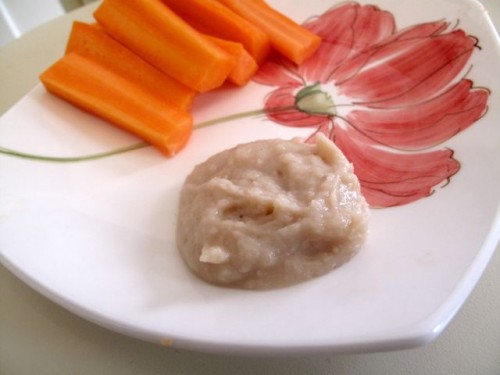 Dinner
HMart had the most amazing fresh fish counter I'd ever seen. While I certainly love fish, Dave really loves fish, so I encouraged him to pick anything he wanted for us to cook up for dinner. We ended up with some mackerel fillets. Neither of us had ever cooked or eaten mackerel before, so we were excited to try something new!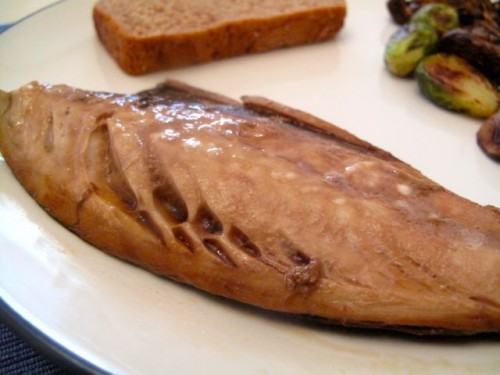 We simmered the mackerel in a gingery-soy sauce mixture. I really liked the sauce, but the fish itself was just ok.
A tad too "fishy" for me. But at least I know I got plenty of omega-3s today!
On the side I roasted some Brussels sprouts and mushrooms.
And enjoyed a thick slice of our homemade 100% whole wheat bread. (I was too full to finish the bread; I probably had 3/4 of it.)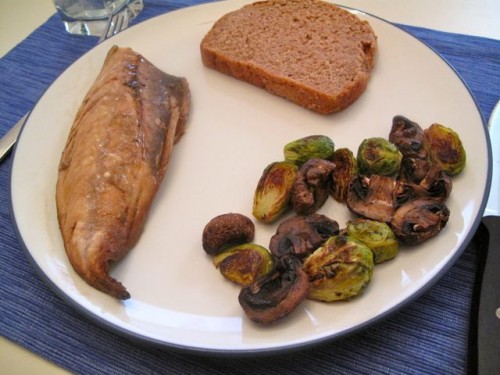 Evening Snack
Dessert was yet another HMart find: a Japanese Rice Cake.
I gotta tell you, I did not think I was going to like this. I found myself thinking, Why did I buy this? I can't believe I'm taking the time to photograph something I'm not even going to end up eating!
But to my surprise, it was pretty good! The inside looked like this:
The inside was a red bean paste kind of thing, and the outside tasted like a less-sweet gummy candy. It wasn't like any "dessert" I'm used to, but I enjoyed it!
Hmmmm, while I'm sitting here typing this I'm feeling like I'm not quite satisfied, so I might have an apple or a small yogurt once I post this. Just so you know.

I hope the rest of your weekend is spectacular!
Do you usually exercise by yourself or with a partner? Do you exercise with your significant other?
AND/OR
Do you like sushi? If so, what's your favorite? I'm a tuna roll kinda gal, but I also love all kinds of veggie rolls. California rolls can be good too!
By