I have nothing but wonderful things to say about salmon.
The health benefits of salmon are incredible. It's low in saturated fat, but an excellent source of the heart-healthy omega-3 fatty acids. Salmon also contains important vitamins and nutrients such as vitamin B12, phosphorus, magnesium, and vitamin B6. Check out WHFoods for a full breakdown of the many, many health benefits of this wonderful fish!
Salmon is also great because it's really simple to work with, and since it's not very "fishy" tasting, many people who aren't usually big fans of fish tend to like it. I personally adore it.

Honey-Soy Salmon is a really simple recipe, one that gives the fish a touch of sweetness without overpowering its naturally pleasing flavor. And the best part is, it only takes a little over 30 minutes, start to finish…including marinating time!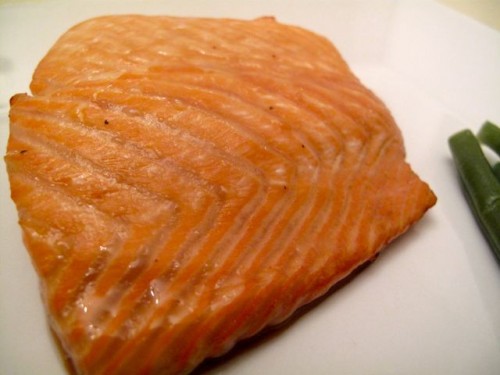 Honey-Soy Salmon
Serves 4
Ingredients
4 salmon fillets (4-6 oz each) (for sustainability purposes, choose wild-caught Alaskan salmon)
1/3 cup honey (I use raw honey, which is great!)
2 tbsp soy sauce (preferably reduced-sodium)
juice from 1 lemon
1 tbsp sesame oil (you can substitute olive oil, but I think the sesame oil really adds great flavor)
sea salt and pepper, to taste
1. Preheat oven to 425º.
2. Combine the honey, soy sauce, lemon juice, sesame oil, salt, and pepper in a bowl.
3. Place the salmon fillets in a plastic bag and pour the honey-soy mixture over them.
4. Allow the salmon to marinate for about 20 minutes.
5. Place salmon on a baking sheet/dish lightly coated with nonstick spray. Roast for 10-15 minutes, depending on the thickness of your fillets.
Do you cook with salmon? What's your favorite way to prepare it?
By