My food cravings definitely change along with the seasons. In the winter I long for hearty soups and stews; a big bowl of chili with a side of cornbread soothes my soul. In the summer, however, my taste buds cry out for juicy fruits, icy smoothies, and refreshing SALADS.

In the summer I love turning picnic-y, side-dish-type salads into main meals. Take, for instance, this Lentil Salmon Salad. It's definitely the kind of salad I would bring along to a backyard BBQ (for an upcoming Memorial Day celebration, perhaps?), but it also makes a fabulous meal in and of itself. Perfect for a warm summer night when you can't bear the thought of turning on the oven or standing in the kitchen for longer than 10 minutes (yes, you can whip up this dish in under 10 minutes!).
Well, that's if you use cooked lentils like I did. If your lentils are uncooked, it will take a little more time, but not more than 30 minutes or so. You could also cook and flake your own salmon, but using canned salmon makes this dish super easy.
I served it over a bed of Boston lettuce leaves.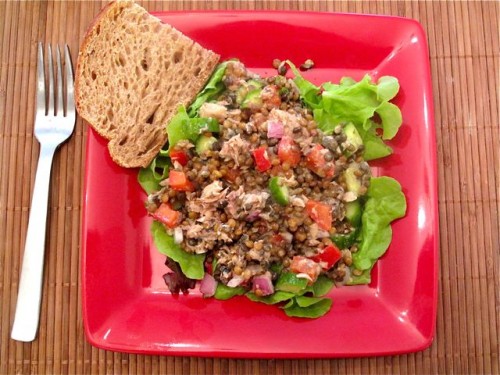 Another perk: the recipe makes a ton – again, perfect for parties or cookouts. Or leftovers!!! This salad makes an excellent stuffing for a wrap.
Lentil Salmon Salad
Slightly Adapted from Eating Well
Yields 6 1-cup servings
Ingredients
1/3 cup lemon juice
1 tbsp dried dill
1 tbsp Dijon mustard
1/4 tsp sea salt
ground black pepper
1/4 cup extra virgin olive oil
1 red bell pepper, diced
1 cup diced cucumber
1/2 cup red onion, finely chopped
3 cups cooked lentils
1.5 cups cooked flaked salmon (1-14.5 oz can or 2-7 oz cans)**
1. Whisk together the lemon juice, dill, Dijon, salt, and pepper in a large bowl.
2. Add the oil a little bit at a time, continually whisking as you go.
3. Add the bell pepper, cucumber, onion, lentils, and salmon. Stir gently to coat.
**Dave pointed out that tuna would work equally well, if you prefer!
What's your favorite summer salad? Pasta salad? Potato salad? Macaroni salad? Lentil salmon salad?

By