I woke up early Sunday morning ready to RUN!
I was signed up to run in a local 5K called the Bel Air Town Run (as in Bel Air, MD…no, I do not live in Los Angeles.

)
But this wasn't just any race, it was an extra special one. Why? Because I was running it with my husband!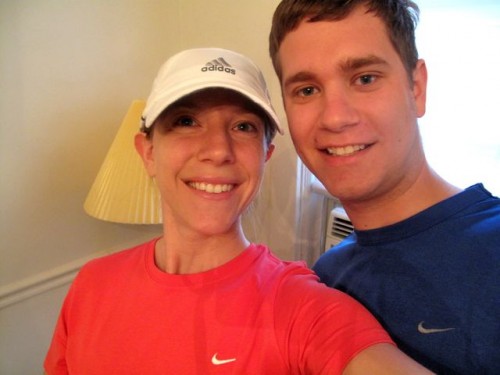 Dave used to run cross country in high school, but hasn't done it consistently since then. I keep waiting for him to catch the same running and racing bug I have.

This was definitely a start!
Oh, wait, maybe I don't want him to get into running because then who will play photographer or stand along the course and cheer?!?!

Pre-run fuel.
Overall we had a really fun time! The first half mile was pretty frustrating because we started too far back and had trouble passing people. There were also a lot of younger kids running, which is fine except that they don't yet grasp "racing etiquette." When they get tired of running they tend to just stop dead in their tracks, wherever they are, which can be a nightmare for the lucky person running behind them.

But in spite of all that, we ran a great race, crossing the finish line in exactly 26 minutes (my watch time, we'll know the official chip time tomorrow). That's under 8:30 a mile – not too shabby! I was pretty darn proud of Dave, considering he only runs every now and then. He did really, really well!

Dave's mom came out to cheer us on at the finish line, which was a delightful surprise! I am so grateful for supporters and spectators; I always make a point of thanking them because their cheers and words of encouragement are always so much more helpful than they probably even realize.
The great part about this race was that it was early enough that Dave and I had plenty of time to shower, eat breakfast, and still make it to church – nice!
On a somewhat related note, I wanted to show you all one of the official photos I got from my half-marathon a few weeks ago….because it is hilarious. I couldn't stop laughing when I first saw it!
I'm pretty sure I remember running across the finish line, but from this photo it appears I was skipping!

Do you prefer exercising by yourself or with a partner? Do you and your significant other ever exercise together?
AND
What are your feelings on allowing kids to participate in road races? I'm all for encouraging kids to be healthy and active, and running in a race is a great way to make exercise fun. At the same time, however, dodging all of the kids today wasn't easy, and a potentially dangerous collision was certainly a possibility.
AND
Have any funny remarks about that race photo? Don't worry, I already know I look ridiculous!

By