Prepare yourself. I am about to write something completely outrageous, scandalous, blasphemous even!
I am not a huge fan of pasta.

There. I said it. I adore most carbohydrates – all kinds of bread and cereal products are welcome in my tummy – but when it comes to pasta, I can take it or leave it. I mean, I don't dislike it. I just don't love it.
That said, I probably make a pasta-based dish for dinner at least every other week, if not more often. Why? 1. The Hubs, like the majority of the population, adores it. 2. It's quick. 3. With just a few simple additions I can easily turn it into a one-dish meal, no sides required.
Recently I've made two blog-worthy pasta dishes – both great upgrades from your standard spaghetti, but also simple and fast. I figured most of you probably enjoy the stuff more than I do, so why not pass on the goodness to those who can truly appreciate it?

First up, one for the sun-dried tomato lovers in the crowd.
Not bad looking, huh?

The inspiration for this dish came from Simply Life's recipe for Pasta with Artichokes and Sun-Dried Tomatoes. The only real change I made was using water in place of the white wine because I didn't have any on hand. To make 4 servings I used 8 oz. of dry pasta (a mix of whole wheat penne and rotini, just b/c it's what I had), 1/2 cup of sun-dried tomatoes, 1 can of artichokes, and 1/4 cup of grated Parm.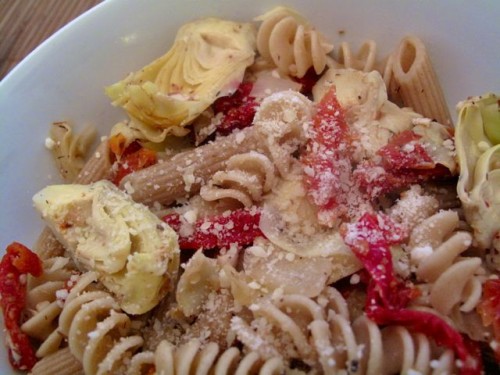 And for those of you looking for something on the greener side…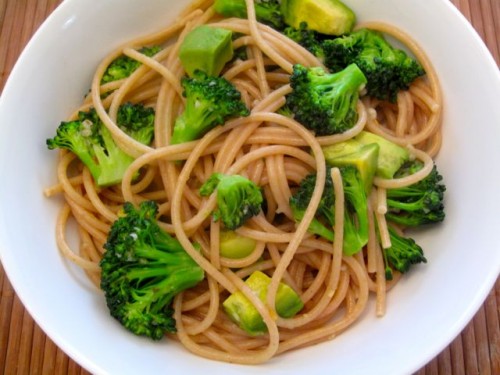 This would be Broccoli-Avocado Pasta, recipe courtesy of Cate's World Kitchen. You can't tell from the photo, but this pasta is coated with a garlic-lime sauce that has a pleasant kick of heat. It takes your spaghetti noodles to a place they ordinarily don't go.
The only changes I made to the recipe Cate posted were to use additional broth in place of the white wine (again because I didn't have any, but I think it would have made the sauce even better), and to omit the zucchini so Dave wouldn't turn up his nose.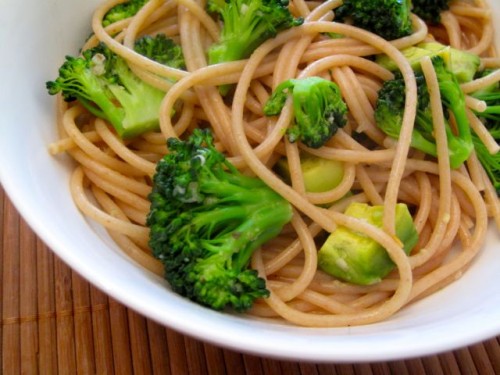 ** Note that both of these meals were eaten out of a bowl. For some reason I find pasta significantly more appealing when consumed from a bowl instead of a plate. Bowls just seem more…comforting, maybe? Anyone else?
So the next time you're craving penne, rotini, spaghetti, or whatever pasta shape happens to be your favorite, I urge you to consider trying one of these combinations. Because if the non-pasta-lover over here enjoyed them, then they must be pretty good, right?

Are you a pasta lover? What's your favorite pasta-based dish?
By