Hey, everyone! Can I just tell you how much I loved reading your Monday Confessions?

Isn't there something liberating about acknowledging your own imperfections and realizing that others struggle just as much as you do? You all made me feel better about not flossing since apparently a lot of you don't either!

Let's see some food, shall we?
Breakfast
Strawberry-Banana-Almond Overnight Oats!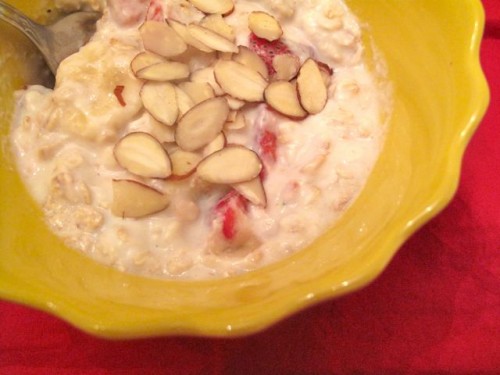 Last night I combined:
1/3 cup oats
1/3 cup almond milk
1/3 cup plain yogurt
1/2 banana, sliced
handful of sliced strawberries
Popped it in the fridge overnight, then added some sliced almonds in the morning. Yummy!
Mid-Morning Snack
Well, before we get to the snack, let's talk exercise. I went to the gym and did 3.5 miles of hill intervals, and later I did some upper body strength training and a solid ab workout. Three cheers for getting my strength training in even though I didn't feel like it!
I also have an exciting announcement to make! As you may already know, I'm training to run the 10-Mile Broad Street Run in Philly on May 2. Well, my training plan has me building up to an 11-mile long run, which got me thinking…if I'm in the kind of shape that I can run 11 miles, what's 2.1 more? So I've decided to run the Maryland Half Marathon on May 23!!! When I asked Dave if he thought I should run it, his response was, "Well, why not?" And I thought, "Exactly! WHY NOT?" I want to have more of a "why not?" attitude toward life!

After the gym I went to campus to get some books for a research paper, and picked up some things at Trader Joe's as well. Snacked on a Clif Z bar in between stops.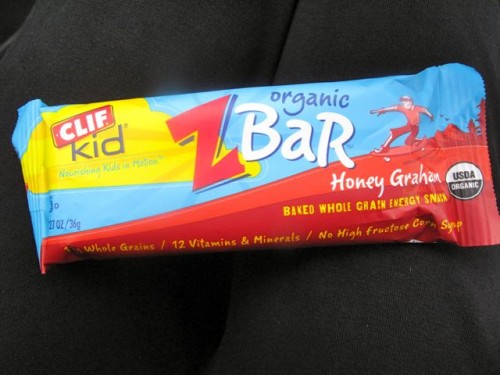 In the name of reducing my added sugar intake, I took a look at the ingredients:
Can you read that? Fourth ingredient: Brown Rice Syrup. Fifth ingredient: Tapioca Syrup. Sixth ingredient: Honey. Seventh ingredient: Evaporated Cane Juice Syrup. I don't think those types of sweeteners are so bad, but it's just a lot of them! No wonder my beloved Z bars taste so heavenly! At least the sweeteners are organic.

Lunch
I was feeling a mega-salad today.
That glorious bowl contained:
spring mix
snow peas
grape tomatoes
red pepper strips
small fillet of Honey-Soy Salmon (leftovers from last night's dinner – recipe forthcoming! It's delicious!)
Pure2Raw Pumpkin Seed Kale crackers
dried cherries
drizzle of rice vinegar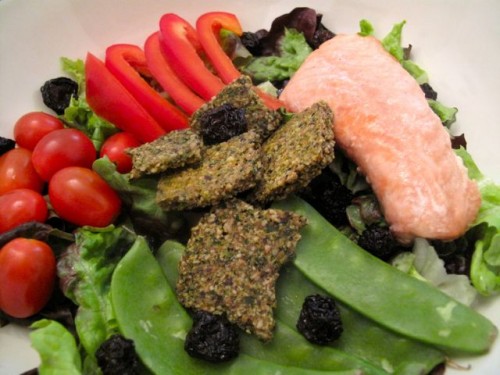 I got a little picture-happy with that salad, didn't I?

I also had a sliced apple with a Laughing Cow cheese wedge (which apparently browned while I photographed the salad!).
Really fresh and satisfying!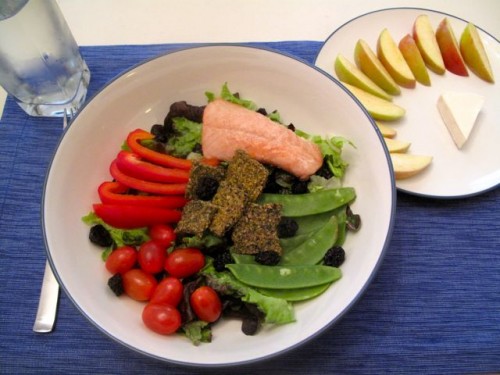 And for a little lunch "dessert," two medjool dates.
Afternoon Snacks
This first snack is a new favorite! I got the idea from some lovely blogger out there, but unfortunately I can't remember who it was. If you thought of this combo, I thank you immensely!
Wholegrain wrap smothered with hummus and topped with shredded mozzarella. Microwaved for 30 seconds so the cheese got all melt-y and delicious!
I also had two hard-boiled eggs, sprinkled with sea salt and pepper. A classic snack food!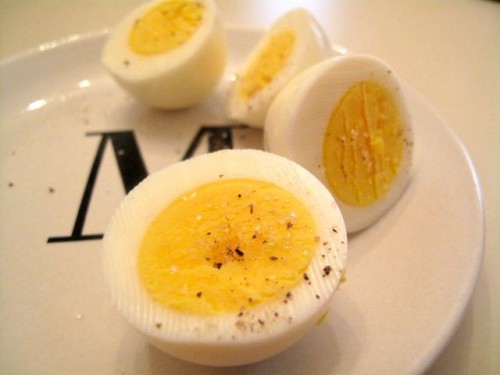 Dinner
Tonight I showed some lovin' to my slow cooker. Dare I say, the humble slow cooker may be one of my favorite kitchen tools. There's something so simple and lovely about throwing a bunch of ingredients in, leaving the scene, and returning hours later to the magnificent aroma of a ready-to-eat meal.
Today's slow cooker recipe: Taco Soup!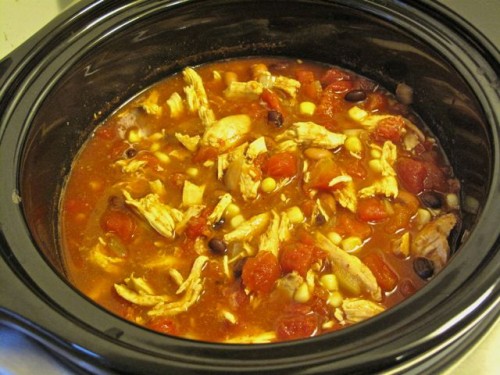 I was inspired by this recipe from Cooking with Trader Joe's. I put the following into the slow cooker:
1 lb. boneless, skinless chicken breasts
1 chopped onion
1 package Taco Seasoning Mix (next time I'd use 1/2 packet)
1 large can of diced tomatoes
1 can black beans
1 can pinto beans
1.5 cups frozen corn
2 cups chicken broth
I cooked it all on Low for 5 hours, then pulled out the chicken and shredded it. Dave and I topped our Taco Soup with fresh cilantro, crushed tortilla chips, and a dollop of plain Greek yogurt.
Besides being a tad too hot for my taste, this was amazing! I made a big batch, so there will be plenty of leftovers.

I also had a side salad with spring mix, sprouts, cucumber, carrots, and zucchini.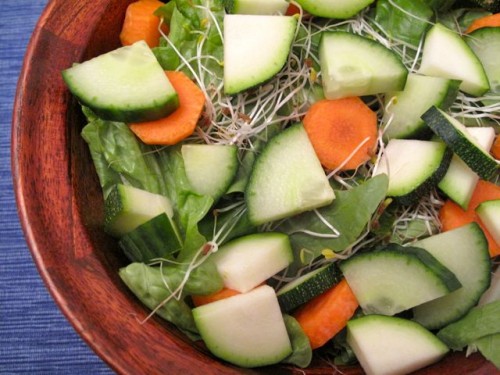 Evening Snack
A simple dessert.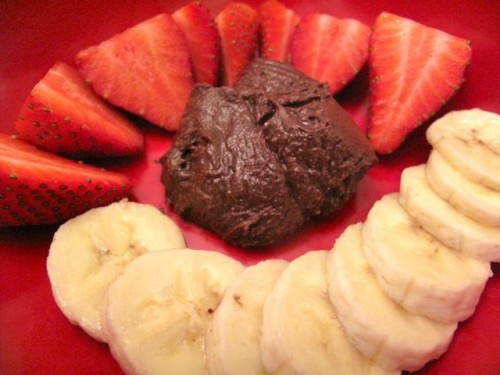 Fresh fruit with Dark Chocolate Dreams peanut butter.
And because today was a bit dreary here on the East Coast, I will leave you with some brightness.
Beautiful flowers from the Hubs.

Have you ever run a half marathon? What was your experience like?
AND/OR
Do you have a slow cooker? Do you use it often? What's your favorite slow cooker dish?
P.S. Check out this awesome Galaxy Granola giveaway!
By