Happy Valentine's Day! I hope you are feeling very loved today.

Dave and I went patriotic this V-day, spending the weekend in our nation's capital. I love the city of Washington D.C.; we don't go there nearly enough, considering how close it is!
Here are the highlights!

Breakfast
Before we set off for our little trip, I cooked up a batch of banana oats on the stovetop. I have to say, it is definitely worth it to make oatmeal on the stove rather than in the microwave. The texture and consistency are just so much better!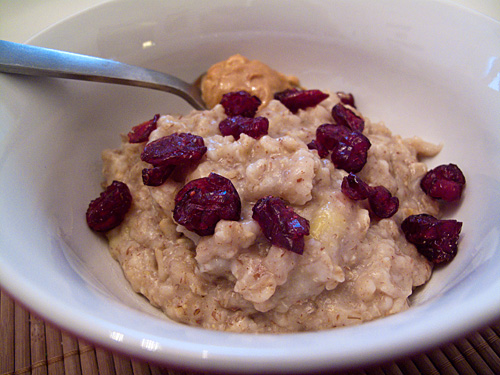 In the mix:
old-fashioned oats, cooked in water
pinch salt
sliced banana (mixed in at the beginning)
ground flaxseed
cinnamon
toppings: natural crunchy peanut butter, dried cranberries
You just can't beat oatmeal for a warm, hearty breakfast!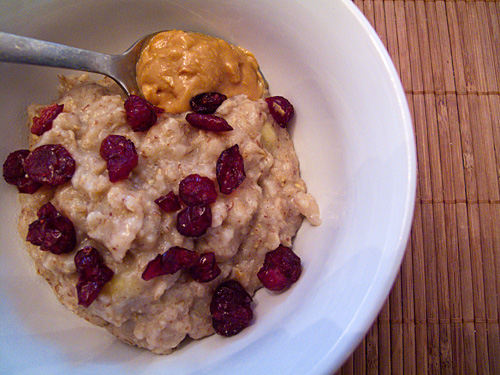 Before we left I packed up a bunch of snacks. If someone were to ask me for my #1 healthy eating tip, I think it would be these four simple words: Plan Ahead. Be Prepared. It is so much easier to bypass nutritionally-empty convenience foods when you've got plenty of healthy options on hand. It's a lot cheaper too.
I packed a lot of food because our dinner reservations weren't until 9:15 p.m., so I wanted to be sure we had plenty to hold us over.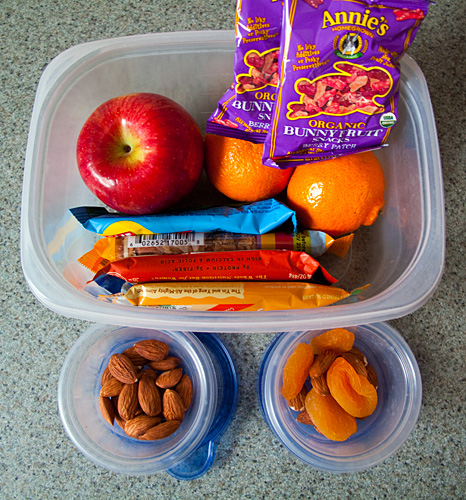 Mid-Morning Snack
Well, more like early afternoon snack. The drive down took a bit longer than expected due to traffic/snow. We didn't mind.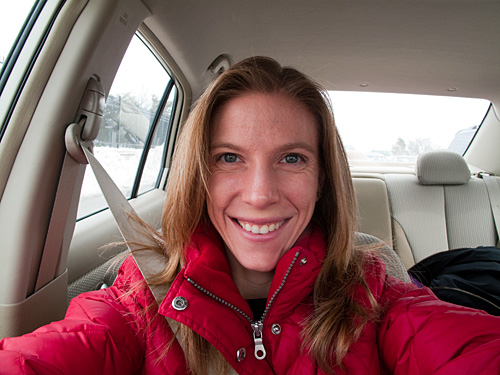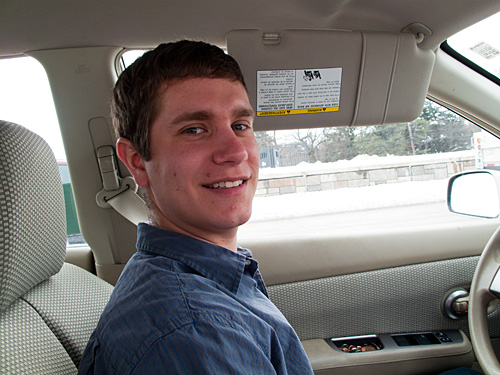 Around noon I realized that it might still be awhile until lunch, so I broke into my raw almonds and dried apricots.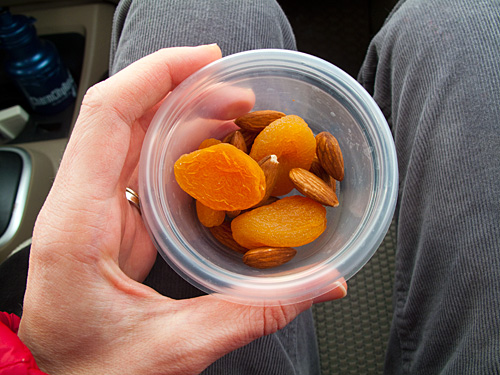 We finally arrived and checked into the Washington Court Hotel. Oh my goodness, this hotel is amazing. I mean, check out the lobby!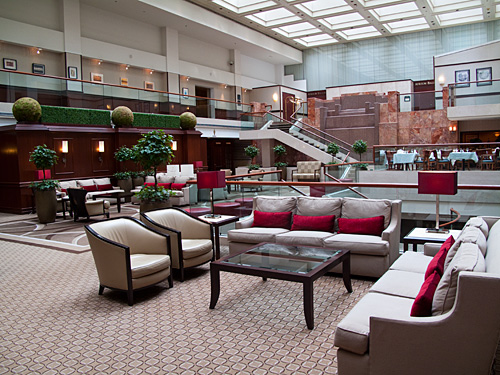 Gorgeous, right? Our room was equally fantastic; Tina would love it!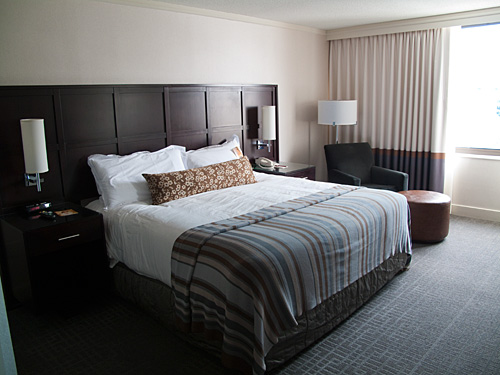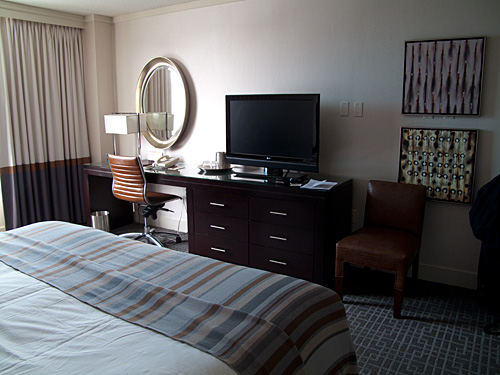 If you're looking for a hotel in D.C., I definitely recommend this place!
Lunch
For lunch we checked out this tiny little place in Capitol Hill called the Wellness Cafe. It was cute! I had a grilled Alaskan salmon burger on a multigrain kaiser roll, with onion, lettuce, tomato, pickles, and alfalfa sprouts. And I subbed mustard for the mayo.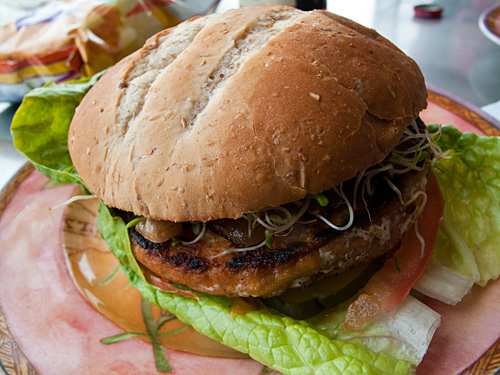 Dave and I shared this bag of carrot chips. (Well, I had about 1/4 of the bag.) The carrot flavor was subtle; they tasted a lot like Fritos, actually.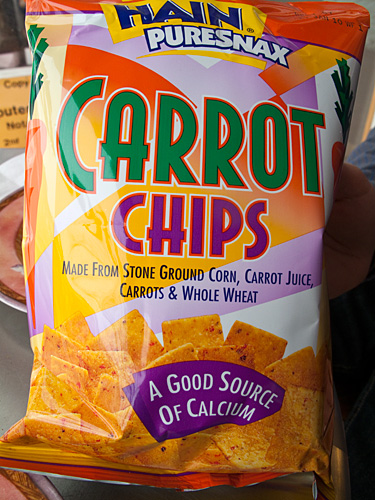 And a Pomegranate Honest Tea for some hydration.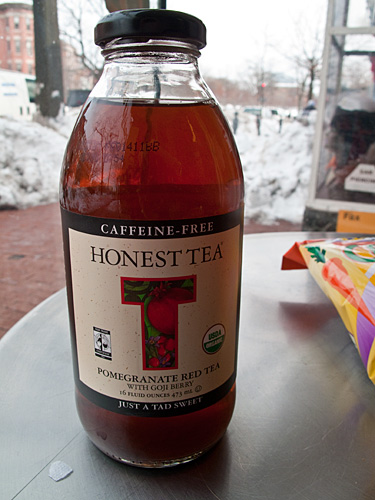 On our way to our next destination, we snapped some nice shots of the Capitol.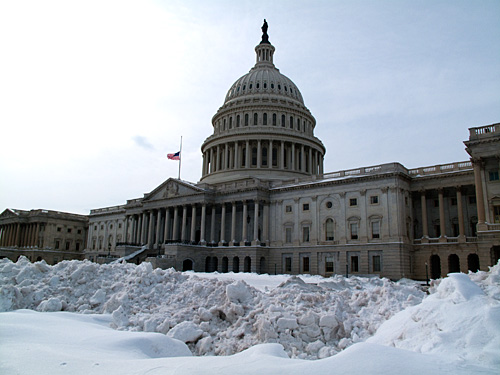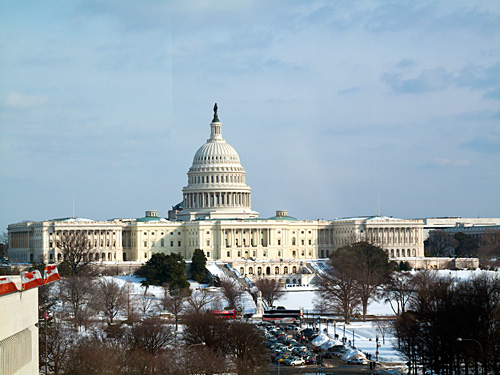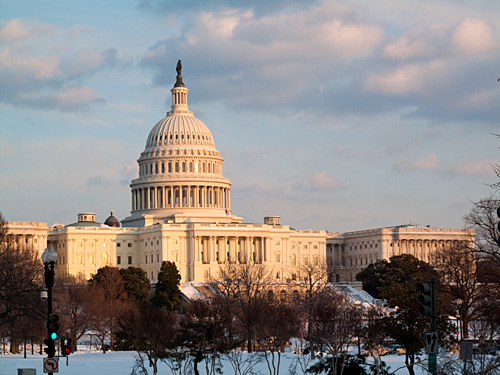 Do we look freezing in this one? The wind was crazy; we were chilled to the bone!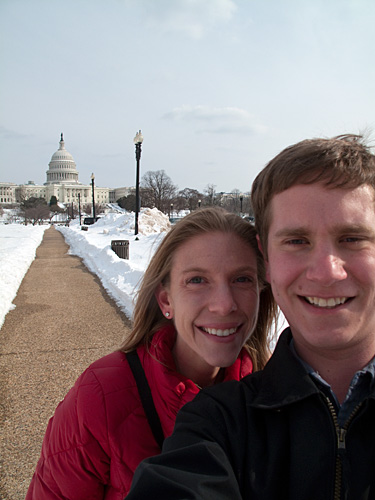 We couldn't wait to warm up inside our destination – The Newseum!!! (Yes, we are the type of people who opt to spend Valentine's Day at a museum. Does that make us total geeks? 

)
The Newseum may not have been romantic, exactly, but it was incredibly interesting. We spent about 3 hours there, and would have stayed longer had it not been closing!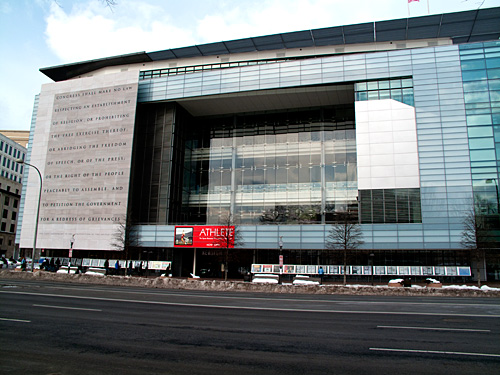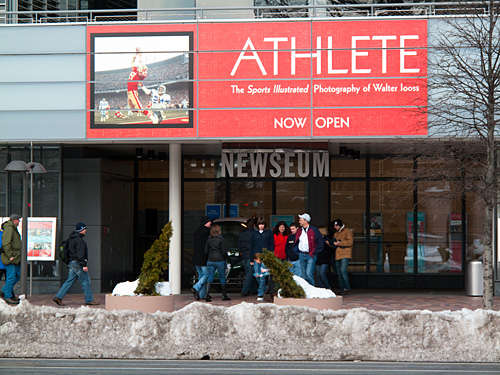 Even if you're not a news junkie, you should check out this museum if you have a chance. There are so many interesting exhibits. My favorites were: the gallery of Pulitzer Prize photographs, eight sections of the original Berlin Wall, and the Internet, TV, & Radio Gallery (lots of good info. on the impact of BLOGS!).
Oh, and a special exhibit on First Dogs! Lots of fun photos of presidential puppies.

There was even an interactive exhibit where you give a live news update on camera. Yes, we totally did it.

Afternoon Snack
After the museum we still had almost four hours until our dinner reservations (we booked a bit too late, considering the holiday, so our options were limited). Naturally we hit up the hotel fitness center.

I did 35 minutes on the treadmill – 20 min. running and 15 min. incline walking. Not much, but I think it was plenty since we also walked about three miles around the city throughout the course of the day.
Pre-workout fuel: a clementine from the snack stash.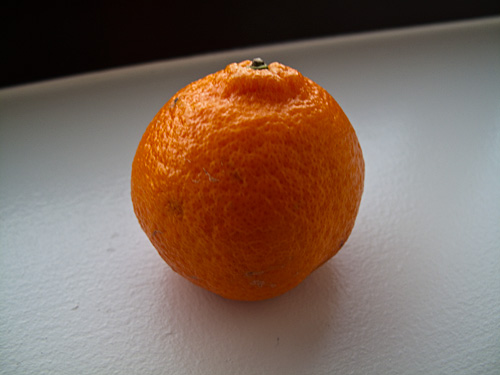 And post-workout nourishment: apple pie LARA bar.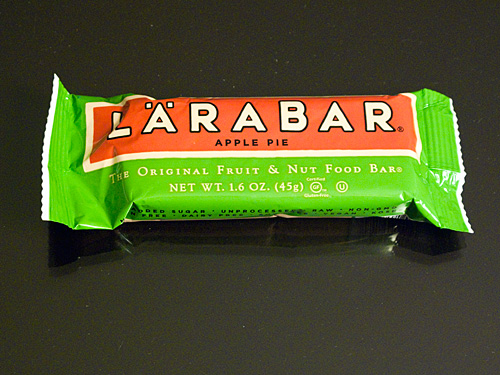 Dinner
Even with the snacking, I was about ready to gnaw my arm off by the time we got to the restaurant. We had reservations at this hip little French bistro right in Capitol Hill called Bistro Bis.
Smiling on the outside, screaming "BRING US THE BREAD BASKET!" on the inside.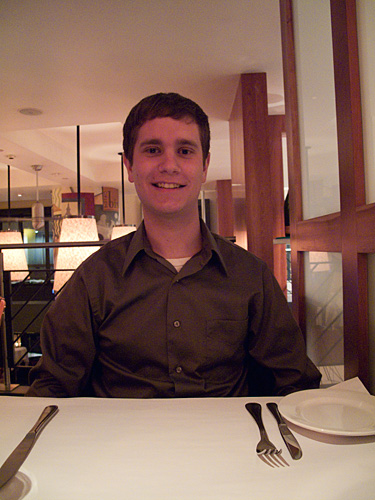 Whew, there it is!!!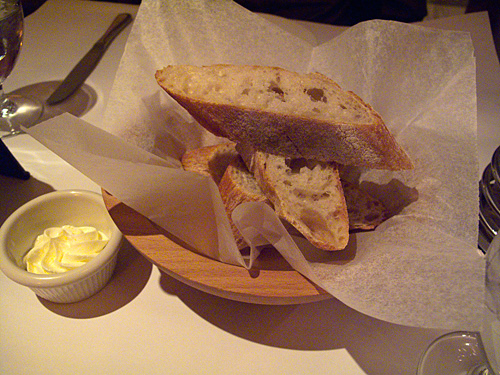 I had one piece with a smidge of whipped butter.
To start I had this incredible salad.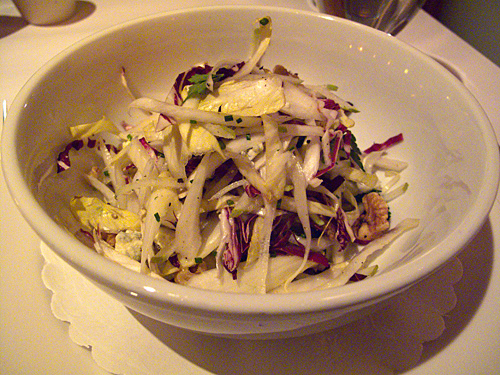 Endive and radicchio with pears, walnuts, blue cheese, and cider-walnut vinaigrette. I got the vinaigrette on the side and only used a tiny bit; it was pretty strong, and the salad by itself wasn't dry at all.
For the main course, Dave got the lobster special: a whole lobster with rice, mushrooms, leeks, and some kind of creamy sauce. He thought it was good but not earth-shattering.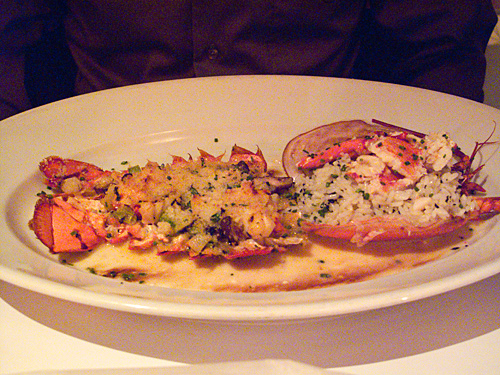 I got the honey-glazed pork chop with chestnuts, butternut squash pierogi, and Brussels sprouts. This is a prime example of the "everything in moderation" motto, because it was definitely not healthy!
The pork chop was HUGE (I probably ate about half) and a bit fatty, but it was cooked perfectly and tasted tender and delicious! The pierogi were also delicious, albeit extremely buttery. My only complaint was the sauce; it just wasn't good, and my sprouts were drenched in it, which pretty much ruined them. But my love of Brussels sprouts meant I ate them anyway! 

I left feeling full but not stuffed, which is always my goal at restaurants.
Ok, I have shared ENOUGH! Your turn!

Are you a snack-packer like me? What are your go-to snacks when you're travelling?
AND
What's your favorite place to visit in Washington D.C.? If you haven't been there, definitely put the Newseum on your list of places to visit!
By