I must say, I am not the biggest fan of coconut. Which might surprise you, since I've blogged several recipes containing the ingredient. The truth is that it's not really my thing, but Dave happens to love it! And since I cook plenty of dinners based on my personal preferences, it's only fair to make some that are more catered to his taste buds.

Take, for instance, this Thai-inspired Coconut Soup.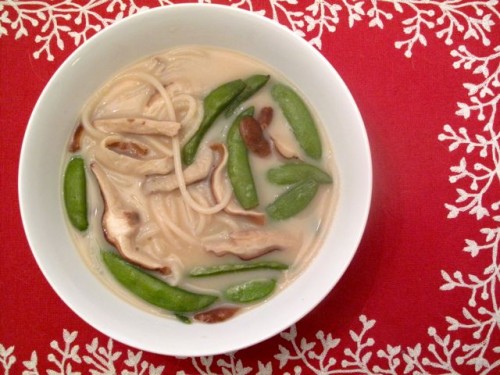 If you're like Dave and love coconut, then you'll appreciate this light soup! It's based off of this Healthy Eats 5-Ingredient Coconut Soup with Noodles and Mushrooms recipe. My soup actually had 6 ingredients because I added snap peas; I also used shiitake mushrooms, which I highly recommend.
If I were to make this again I would definitely add lemongrass to give it an even greater Thai-inspired flavor!
Another (somewhat) noteworthy dinner:
Annie's Whole Wheat Shells and White Cheddar, doctored up with some broccoli and canned Alaskan salmon. For some reason I don't mind eating dinner from a box quite so much when I add a little somethin' somethin' of my own.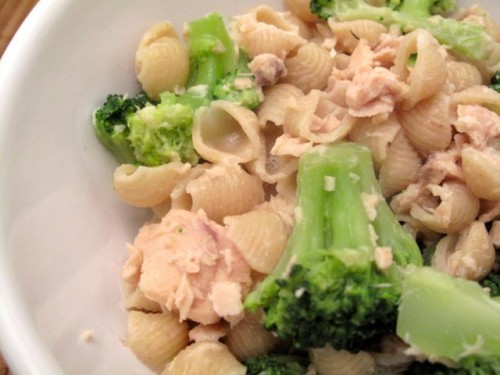 Let's check out some other times of the day, shall we?
Breakfasts
Nothing too thrilling – plain bite-sized Shredded Wheat (TJ's brand) with banana in almond milk.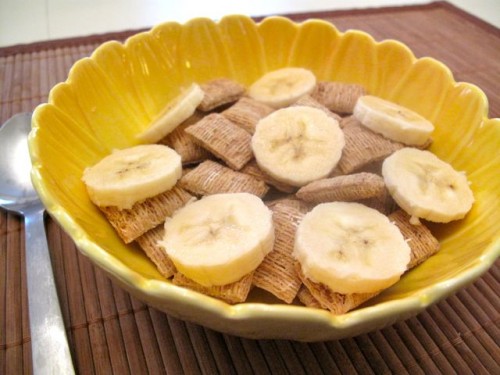 I also wanted to show you this awesome bowl of oatmeal.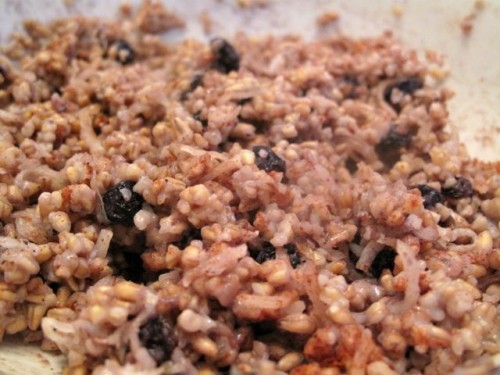 This is actually Dave's concoction, not mine. I have to say, he is quite talented when it comes to interesting oatmeal bowls!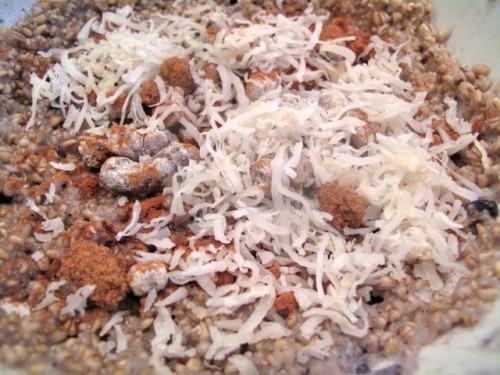 In his mix:
steel cut oats cooked in milk
cinnamon
dried blueberries
chopped dates
shredded unsweetened coconut
Lunches
This sammie was awesome!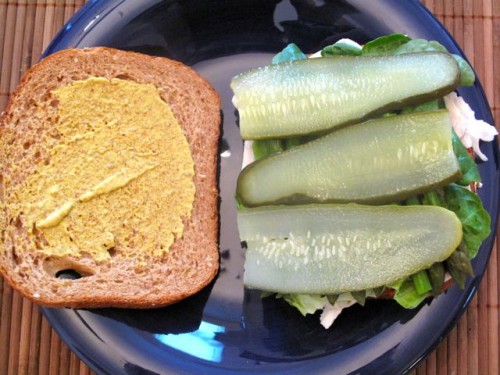 Whole wheat bread, Applegate Farms roasted turkey breast, lettuce, asparagus, pickles, and spicy brown mustard.
I want to say that the asparagus made this sandwich, but then I would be lying…the rockstar was definitely the PICKLES! For some reason I always forget to add pickles to my sammies, and then I randomly remember and am in heaven!
There are also some mega-salad action.
In the bowl:
red and green leaf lettuce
cucumber
grape tomatoes
artichoke hearts
some tiny radishes from Dave's back porch garden
mung bean sprouts
a chopped medjool date for sweetness
big dollop of hummus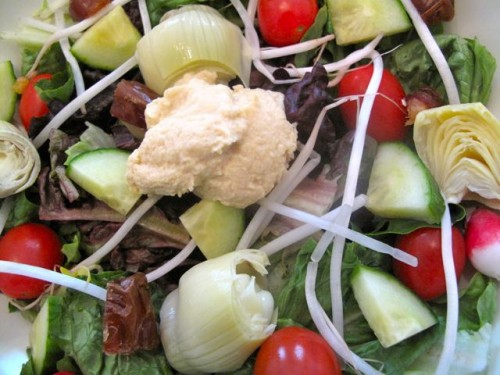 Plus a side of some locally-made plain yogurt topped with a pinch of Post Great Grains cereal.
And finally, on a rushed day, a frozen Amy's meal.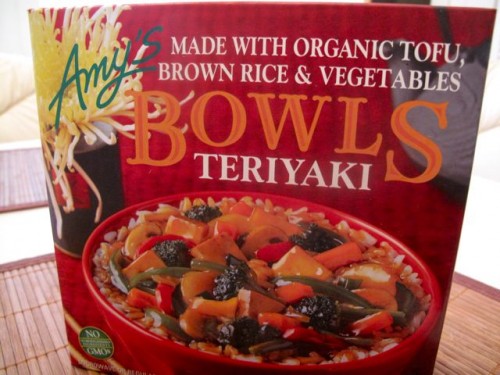 Snackage
Not surprisingly, I've eaten a couple of bars.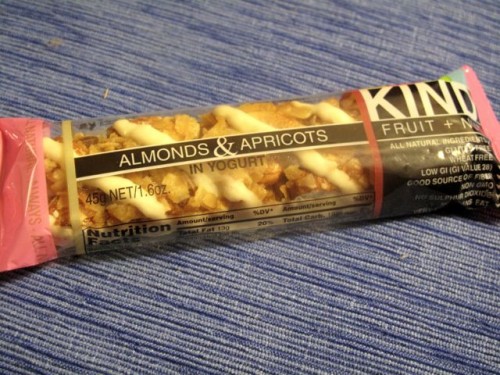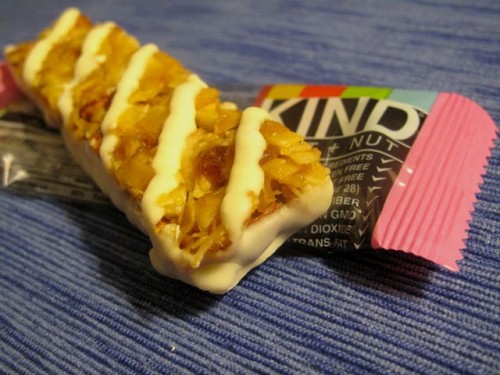 The usual suspect.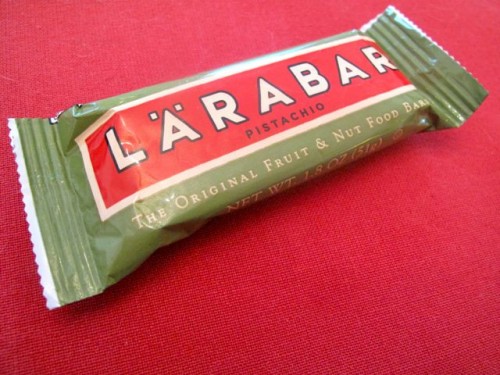 A whopping THREE ingredients!
Fruit leather thingys.
Greek yogurt topped with a crumbled Vita Muffin. (Love this!)
Maple-roasted butternut squash cubes (yes, I eat squash as a snack!

)
And half of a cantaloupe filled with cottage cheese. Delicious!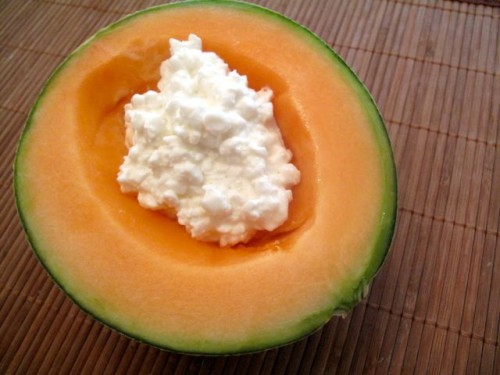 Those are all of the food photos I've taken of late…time to start snapping some more!

If you cook for your significant other, do you ever make meals that you don't like too much because he/she does?
AND
For those days when convenience is king, do you have a favorite brand of frozen meal that you turn to?
By