As I've mentioned before, I've recently re-kindled my relationship with my old exercise flame Body Pump. I've been going to Body Pump – a fitness class which focuses on endurance-based strength training – two mornings per week (at 5:45 a.m.

), and I'm just as smitten now as I was years ago.
At class last week, as I was preparing my weights for our back and hamstring exercises, I casually asked the instructor if we could do my favorite "track" or routine for that muscle group. When she asked why it was my favorite, I replied, "because it hurts the most."
And hurt it did. My muscles were burning.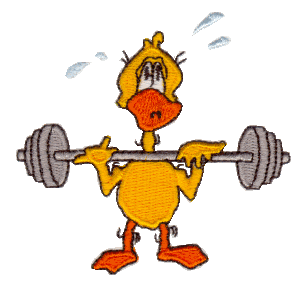 (Source)
As I told Dave this story, his eyes widened with concern. He knows I have a history of taking exercise beyond the healthy limits, of pushing myself to the point of pain and punishment. When I resumed regular exercise after a brief but necessary hiatus, I was very adamant about trashing the "no pain, no gain" motto.
But I can honestly say that my desire to do the strength training routine that "hurts the most" was not coming from a place of self-punishment or compulsion; rather, it was coming from a healthy love of a good bodily challenge. As I found myself grappling for the words to explain this important difference to Dave, this blog post was born.

So after much contemplation, I present to you my thoughts on the difference between good pain and bad pain.
Good Pain: Green Light
- Does not – in any way – feel like an injury.
- Feels within my physical capabilities.
- I know I will stop or ease up when I need to.
- Even though it hurts, it actually feels good.
- Afterwards I feel pride for working hard and challenging myself.
- I look forward to exercising again.
Bad Pain: Red Light
- Feels like an injury, a potential injury, an emerging injury, etc.
- Feels outside of my physical capabilities.
- I refuse to stop or ease up, no matter what.
- It feels like punishment.
- Afterwards I feel a warped sense of pride for "controlling" my body.
- I dread exercising again.
Two things I notice in this list:
1. The difference between good pain and bad pain is as much mental as it is physical. Indeed, oftentimes the physical muscle burn feels the same, but my approach – my mindset – is totally different.
2. Similarly, it really comes down to knowing myself. Since it doesn't always look different from the outside, I need to be extremely self-aware – of my body, of my motivations, of my intentions, etc. I'm really the only one who can judge whether it's good pain or bad pain, you know?
It's very possible that at my next Body Pump class, I'll again be asking if we can do the routine that "hurts the most." But I will also continue to challenge myself on that front; I will continue to be self-aware and self-reflective when it comes to my exercise routine. Because I want any pain that I feel to be of the good variety.

How do you define the difference between good pain and bad pain when it comes to exercise? Have you ever pushed yourself beyond the limits of good pain and into the parameters of bad pain?
By