Sometimes it just happens. Maybe I'm exhausted after a long, stressful day at work. Maybe I just received some terribly upsetting news about a close friend or family member. Perhaps I just spent hours fighting off some anxiety about an upcoming social event. But for whatever reason, sometimes it just…happens.
I bolt. I emotionally check out for the evening, using a massive bowl of ice cream or cereal (or both!) to facilitate the zoning out process. I feel better for about 5 whole minutes, after which I am overrun with guilt about the whole thing.
Recently a reader and I were chatting through e-mail about how to handle the whole post-binge-guilt thing. This reader had just come off an overeating episode and was really struggling to just accept what happened and move on. She was getting so caught up in her past stumbles that it was inhibiting her ability to move forward.
She asked if I had any advice, and I told her I thought the old adage "forgive and forget" might be useful here. Except instead of forgiving someone else, in this case we need to forgive ourselves.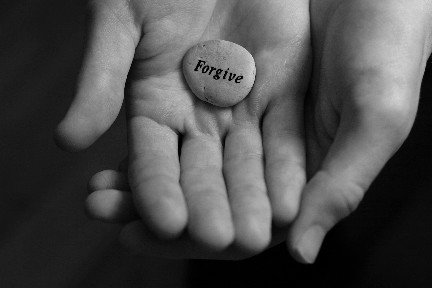 (Source)
Forgive and Forget: Three Steps for Moving On After a Binge
Step 1: Recognize that I overate for a reason.
Each and every time I turn to the ice cream bowl, it is for a legitimate reason. I wouldn't be doing it if it weren't providing me with something – most often short-term comfort, a way to check out. No, using food as an emotional relase is not a healthy coping strategy, but it's still a coping strategy. It's giving me the break or release I'm looking for.
I find that it's easier to forgive myself when I recognize that it wasn't simply a lapse in will-power or resolve; it was a way (albeit an ineffective one) of comforting myself.
Step 2: Explore the reason.
So I recognize that I overate for a reason, but sometimes in the moment I have no idea what that reason is. While I usually don't try to dissect the situation in the immediate aftermath – when my judgment is obviously still a little cloudy – once the storm has settled I do take some time to reflect. I question what I was feeling in the minutes, hours, or even days before it happened. What exactly was the trigger?
Step 3: Make a plan.
I am totally a Type-A personality, and here's where it really shows. I find that I am only able to move on once I've established a new course of action for the next time a similar situation rolls around. I think through how I can take better care of myself, how I will sit through the difficult emotions instead of running away from them, and who I will reach out to for support.
Granted, I'm not always successful with following through on this plan when the situation arises, but the very act of outlining a strategy gives me the confidence to forget the missteps of the past and press forward on my journey toward well-being.
Because in the end, there's really no reason not to forgive and forget. The guilt doesn't get me anywhere except deeper into my own mess. But when I forgive myself for struggling and then refuse to dwell on the episode, I'm able to pull myself back up, dust off my knees, and pick up right where I left off.
Do you ever struggle with post-overeating-guilt? How are you able to forgive and forget?
**This post stemmed directly from a reader's question. If you have a question you'd like me to address here on HWS, feel free to e-mail me at katie@healthforthewholeself.com and I will do my best!
**Stop back tomorrow for a super fun Giveaway! (I am very excited about this one!)

By