As I've mentioned before, I usually opt for sweet breakfasts over savory ones. Truth be told, I usually opt for sweet anything over savory anything.

But I've discovered that sometimes a savory breakfast is better because it often involves more protein, and hence keeps me feeling full longer. It also helps me get in a serving or two of veggies, which is rare in my standard, sweet morning meals.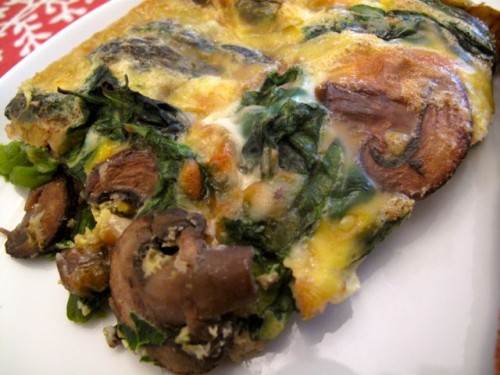 While this breakfast casserole is very simple to make, it's not the fastest meal to whip up…probably more of a lazy-weekend-morning breakfast than an out-the-door-workday kind of thing. But it does keep well in the refrigerator – not to mention it makes six hearty servings – so you could always make it on the weekend and then just give it a quick spin in the microwave throughout the week.
To make this breakfast casserole, I simply sauteed some asparagus, mushrooms, and spinach in a little bit of olive oil. Then I layered the veggies in a prepared cassrole dish and topped them with mozzarella cheese. On top of that I poured a mixture of beaten eggs, egg whites, and milk, then popped it in the oven until the eggs were set and the top was beginning to brown – about 45 minutes.
Perhaps the best thing about this recipe is that it's basically an (almost) blank canvas; it's the foundation upon which you can build all sorts of delicious variations. Don't like mushrooms? (GASP!

) You can easily sub in another veggie. Want something more fancy? Swap the mozzarella for goat cheese. Love bacon as much as this lady? Cook some up and throw it in! (Next time I'll add a few chopped Morningstar Farms breakfast sausage patties, which I'm currently loving.)
Breakfast Casserole with Mushrooms and Asparagus
Adapted from In Good Taste
Makes 6 hearty portions
Ingredients
1/2 lb. asparagus, cut into 1-inch pieces
1/4 lb. white mushrooms, sliced
2 cups baby spinach, chopped
1 tbsp olive oil, divided
1/2 cup shredded mozzarella
6 eggs
6 egg whites (I used the equivalent of liquid whites from a carton)
2 tbsp milk
salt and pepper
1. Preheat oven to 375º. Spray a 9 x 13 glass casserole dish with nonstick spray.
2. Heat 1/2 tbsp olive oil over medium-high, then add the asparagus and saute about 5 minutes. Spread the asparagus pieces into a single layer in the casserole dish.
3. Add the remaining 1/2 tbsp olive oil to the pan. Saute the mushrooms for 5 minutes or so, then add the spinach and cook until wilted, about a minute more.
4. Layer mushrooms and spinach on top of asparagus in the casserole dish, then top with shredded mozzarella.
5. In a medium bowl, beat 6 eggs, then add egg whites and milk and whisk until combined. Season to taste with salt and pepper, and pour over vegetables and cheese.
6. Bake for 45 minutes, or until eggs are set and the top of the casserole is beginning to brown.
What's your favorite savory breakfast?
AND
Do you ever prepare your upcoming breakfasts over the weekend, so during the week it's just grab-and-go? I've heard of people making a whole batch of oatmeal or muffins, which sounds like a good idea to me!
By