It's officially MARCH! I hope your first day of the month was spectacular!
I am very excited for March for several reasons: it should soon start getting warmer, Daylight Savings Time means more hours of light, and I'll be attending two exciting weekend events – a Christian women's conference and Fitbloggin' 2010! (In my hometown, no less!) Can't wait!

Oh, and I really enjoyed reading your comments to my "Hungry Enough to Eat an Apple?" post. You all have some great ideas!

Onto the food!
Breakfast
In honor of the month of St. Patrick's Day , breakfast was GREEN!
I'm calling this my Tropical Green Monster. Again I ate it out of a bowl. When I have a green smoothie as a snack I drink it from a glass, but for some reason the idea of drinking a meal does not appeal to me.
Into the blender went:
2 packed cups of spinach
1 cup skim milk
big handful of frozen mango chunks
big handful of frozen pineapple chunks
topped with Cascadian Farms Oats & Honey granola
My Irish husband was proud.

 (Although he himself won't touch Green Monsters!

)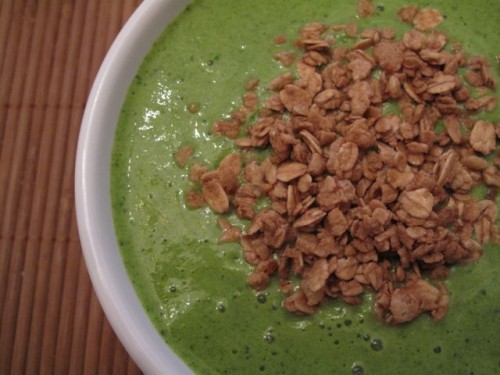 Mid-Morning Snack
After breakfast I checked a few tasks off of my to-do list, then did my exercise for the day: a 3.5 mile run – complete with hill intervals – followed by some upper body weights and core work. Hills are the bane of my running existence, and yet I force myself to do hill workouts anyway. Conquering the incline makes me feel STRONG!

After my workout I grabbed a quick snack before heading out on a bunch of errands. A piece of whole wheat toast slathered with almond butter and topped with pear slices. (I also ate the remainder of the pear.) Fresh pears + almond butter  = delicious!
Lunch
Lunch was, I must say, pretty darn fabulous – all thanks to the lovely Danica from Danica's Daily. She gave me the idea for this lunch, and it was a total winner!
Awhile ago I made a big batch of Real Simple's Turkey and Bean Chili and froze a serving or two to enjoy another day. That day was today!
This chili recipe is great – very thick and hearty, just like chili should be! I topped it with some reduced-fat Mexican cheese blend.
But this is what made my bowl extra special: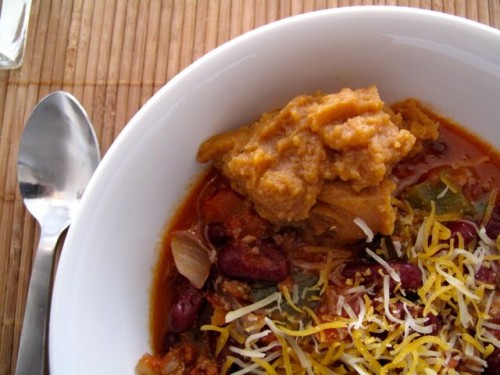 That would be a dollop of sweet potato puree! Thank you, Danica, for this wonderful idea! I've actually made chili using canned pumpkin before, so as soon as I saw her add sweet potato I knew I would love it. I had a little bit with each bite. YUM!
This was a pretty hearty lunch, and yet after I finished my bowl I didn't feel quite satisfied. (I was probably about a #5 on my hunger scale, and felt like I wanted to be closer to a #6-7.) Hunger can be unpredictable like that! So I rounded out my meal with this little guy. Then I was perfectly satisfied!

Afternoon Snack
There is just something special about fresh, locally-grown carrots. Especially ones that look like this.
We bought a couple of mammoth homegrown carrots at the market on Saturday. The woman tending the stand said, "they aren't pretty but they sure do taste good!" She was right!

Being goofy.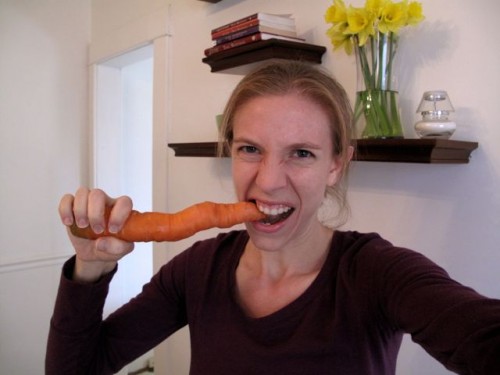 (Actually just wanted to show off the beautiful daffodils Dave brought me yesterday…aren't they beautiful? They make me think of our wedding, which had a green and yellow color scheme. Love ya, hubby!)
I had the carrot with a glob of Trader Joe's Three Layer Hummus.
And a bunch of grapes.
Dinner
Dinner took me a lot longer to put together than expected, but the finished product was good!
I made Apricot Pork Chops, and for some reason they took a lot longer to cook through than I thought they would. I followed this recipe from Branny Boils Over. (Everything I have made from her blog so far has been a success!) The only change I made was to double the amount of apricot preserves because I thought the soy sauce flavor was a bit overwhelming.
Dave and I both took one bite and went "YUM!"
On the side I had a double serving of veggies – asparagus and mushrooms roasted in EVOO, balsamic vinegar, sea salt, and pepper. The little bit of balsamic adds such a great flavor!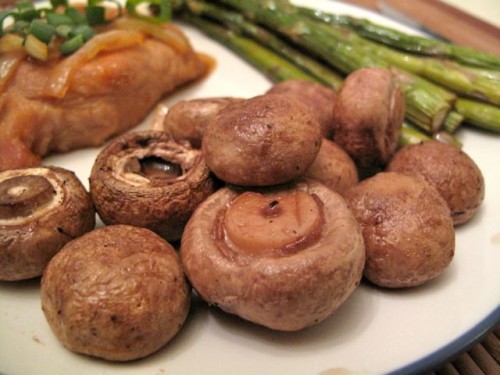 This dinner was actually really filling!
Evening Snack
Earlier in the day I decided I wanted a brownie for dessert tonight, but dinner kept me so full that when it came to my usual snack time a brownie just didn't sound appealing. (Crazy, I know!) But I still wanted something…just something a bit lighter. I went with a yogurt bowl.
A small serving of vanilla Greek yogurt topped with grapes and a crumbled Kashi pumpkin spice flax granola bar.
Time to climb into bed with my book…my book club meets in two weeks and I just started the book last night! Better get reading!

How do you consume your Green Monsters (or other smoothies)? From a glass or from a bowl?
Also, anyone else going to the Fitbloggin' conference in a few weeks? I'd love to touch base with you!
By