Ah, the age-old question: How do you make a dish healthier without losing the wonderful taste, texture, and flavor?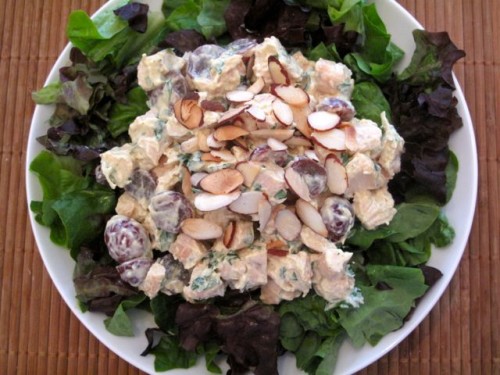 One answer: substitute some – but not all – of the less healthy ingredients for more nutrient-dense ones. You keep the flavor and texture while still upping the health factor.
This chicken salad, for example, doesn't ditch the mayo entirely. Instead, the recipe uses just a touch of mayo, replacing the rest with plain Greek yogurt. It's all about compromise, you know?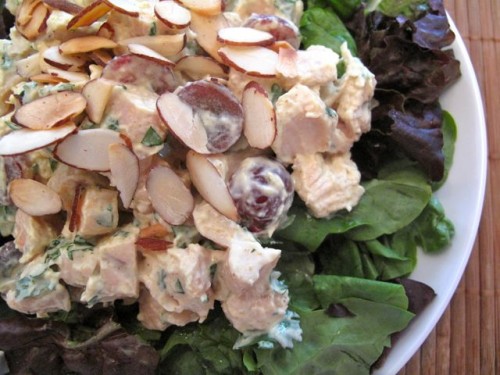 The creamy texture is dead-on, and the grapes and sliced almonds lend the perfect amount of crunch. And the curry powder makes it feel a bit more special, not just your standard chicken salad. I piled it atop a bed of mixed greens, but it'd be wonderful stuffed into a pita or scooped up with pita chips.
Curried Chicken Salad
Adapted from So Easy by Ellie Krieger
Serves 4
Ingredients
1/4 cup sliced almonds
1/2 cup plain Greek yogurt
2 tbsp mayo
1 tsp curry powder
2.5 cups cubed cooked chicken breasts (about 1 lb.)
1 cup red grapes, halved
1/4 cup fresh cilantro, chopped
sea salt and pepper, to taste
mixed greens, pita bread, and/or pita chips, for serving
1. Toast the almonds in a small, dry skillet over medium heat for 2-3 minutes, stirring occasionally.
2. In a large bowl, stir together the Greek yogurt, mayo, and curry powder. Gently mix in the chicken, grapes, and cilantro. Season to taste with salt and pepper.
3. Sprinkle with toasted almonds just before serving. Serve over mixed greens, in pita bread, or alongside pita chips.
Do you have your own trick for making recipes healthier without sacrificing taste or texture?
AND
Chicken salad, tuna salad, egg salad, tofu salad – which is your favorite?
By