A healthy-but-still-delicious version of Mac 'n' Cheese? Yes, please!

One that incorporates the creamy sweetness of Butternut squash? Even better!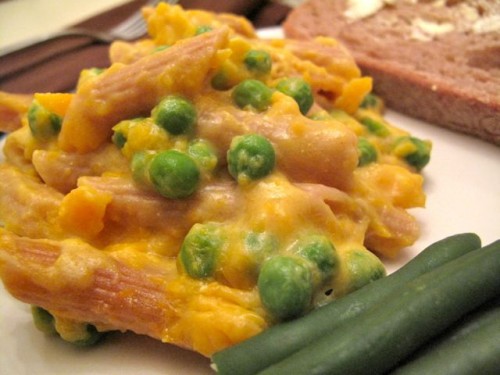 This dish has all of the necessary components of a classic Mac 'n' Cheese: creamy texture, cheesy flavor, the comforting feel of baked pasta, and the somewhat disturbing bright orange/yellow color.

And yet it is, without a doubt, GOOD FOR YOU!
It's simple to make too! First you cook your butternut squash (either by roasting or steaming it), then puree it using your preferred method (blender, food processor, potato masher, fork, whatever!). Then you make a simple sauce by mixing the squash with a little bit of butter or oil (I used Earth Balance), flour, water, and some salt to taste.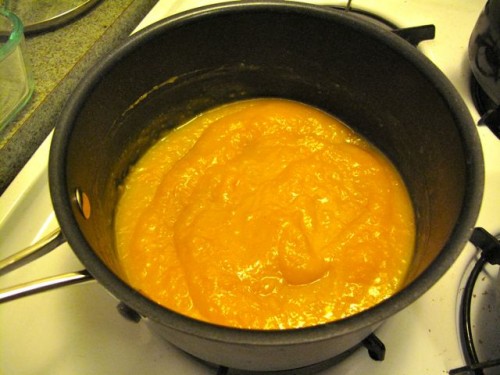 Then you add your cheese – a little bit of shredded mozzarella and a little bit of cream cheese. You will be SHOCKED by how cheesy this tastes for how little cheese you actually use!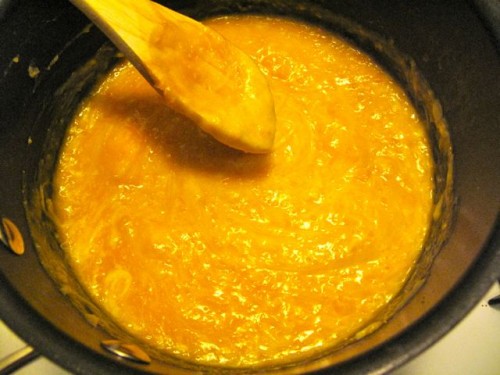 Then you just stir together your cheesy squash mixture, some frozen peas, and cooked whole wheat pasta. Bake for 25 minutes, and you're ready to dig in!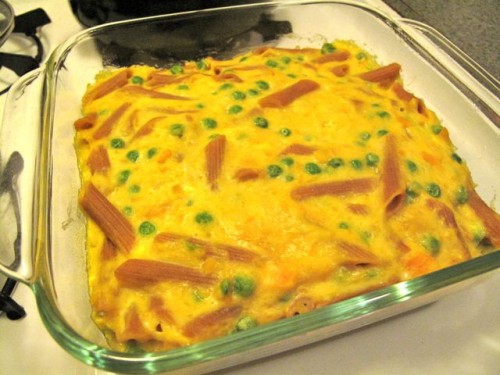 So creamy and cheesy!!!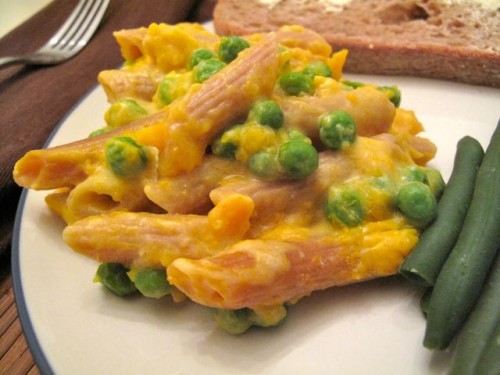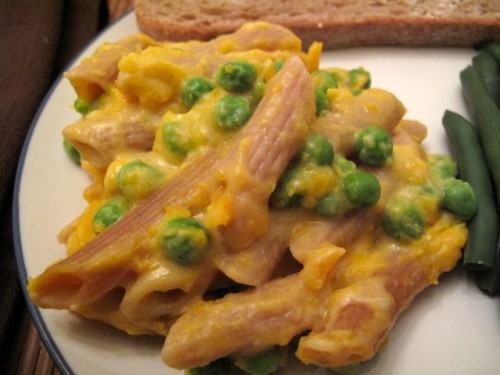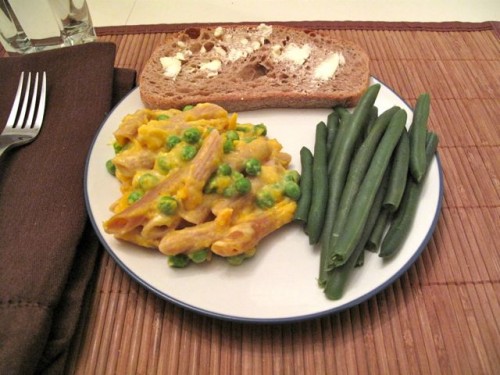 Butternut Squash Mac 'n' Cheese
Adapted from Branny Boils Over
Serves 4
Ingredients
1.5 cups whole wheat penne pasta (dry – about 150 grams)
1 cup reduced-fat shredded mozzarella cheese
2 tbsp reduced-fat cream cheese
1 cup butternut squash puree
1 cup frozen peas (could also substitute frozen chopped broccoli)
1 tbsp butter or oil (I used Earth Balance)
1 tbsp flour
3/4 cup water
salt to taste
1. Peel butternut squash. Roast or steam until very tender, then puree. (I used a blender, but you could use a food processor, potato masher, or just a fork!)
2. Cook the whole wheat penne until al dente. Reserve.
3. Meanwhile, melt your choice of butter in a sauce pan. Stir in flour and cook for 1-2 minutes. Add 3/4 cup water and salt to taste, and stir until a pale sauce forms. Add pureed squash and stir well.
4. Add shredded mozzarella and cream cheese; heat until cheese is melted.
5. Add the cooked pasta and the frozen peas to the cheese/squash mixture. Stir well, then spread into an 8 x 8″ baking dish.
6. Bake at 350* for 20-25 minutes. Enjoy!

What's your favorite kind of Mac 'n' Cheese? The baked, homemade kind? From a box?
By