An old friend of mine from school had a nice, big pool from https://willshapools.com/resurfacing/ in her backyard, and occasionally she'd throw these amazing pool parties. Well, at least I think they were amazing…I never actually went to one of them.

You see, every time my friend would invite me, I'd make up some excuse for why I couldn't make it. I'd then make a deal with myself: once I lost the obligatory ten pounds, I could go and enjoy myself at a pool party.
Sad, isn't it?

But how many of us are still putting off our lives until we reach a certain weight?
I was really touched by Heather's recent post in which – upon realizing she's been subconsciously waiting to live her life until fitting into a certain size – she vowed to begin living her life to the fullest…TODAY.
It reminded me of a book that I highly recommend: Life Doesn't Begin 5 Pounds From Now, by Jessica Weiner.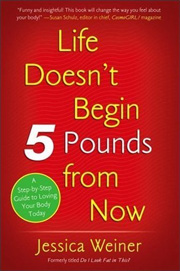 When I first decided to ditch the dieting mentality, I knew I needed to stop letting my obsessions with food and weight hold me back from living the life I wanted, the life I was meant to live. But when you've spent so much of your life thus far neck-deep in bad body-image thoughts, it's a little difficult to snap your fingers and banish them from your brain.
This might sound a little morbid, but honestly, here is how I rationalized it to myself:
If my life ended tomorrow, would I have wanted to spend my final day…
agonizing over a slice of chocolate cake? (with peanut butter icing, thank you very much!) NO!
feeling physically uncomfortable from emotionally stuffing my stomach with baked goods? NO!
feeling drained and fatigued because I'm lacking vital vitamins and nutrients from fruits and veggies? NO!
exhausted from spending way too long at the gym, trying to purge my body of the candy I feel guilty for eating? NO!
feeling sluggish and lethargic from a lack of exercise, from denying my body the movement it craves? NO!
I guess my point is this: From a healthy living standpoint, living life to the fullest essentially means taking a balanced, moderate approach to food and exercise.
And it means that life has a whole lot to offer us…right now. Not a month from now or a year from now. Not ten pounds from now or two sizes from now. RIGHT NOW. Regardless of what your body looks like today or what you did or did not eat yesterday, there is a world of possibility out there, just waiting for you to reach out and grab it!

Have you ever put off doing something until you reached a certain weight or size? Are you ready to embrace all that life has in store for you…right now?
By