This is pure decadence, my friends.
Who doesn't love chocolate pudding?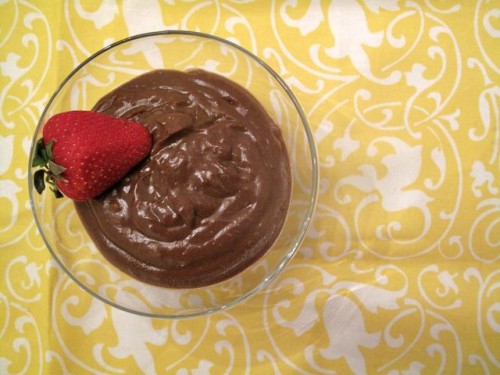 I've seen Chocolate Avocado Pudding on other blogs before and have been wanting to try it for myself. It didn't disappoint! The avocado lends such a wonderful, creamy texture.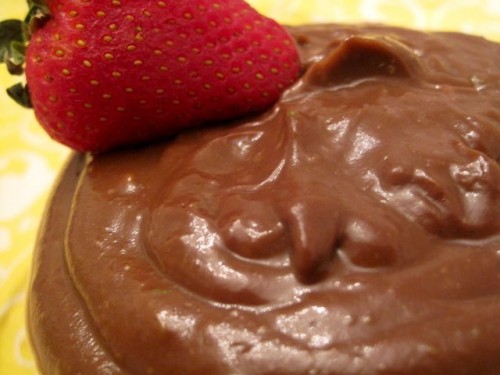 If you simply Google "Chocolate Avocado Pudding" you'll get a ton of hits. I combined a couple of slightly different recipes, ultimately using the measurements I share below. But I really think the key is to taste and adjust throughout. Some will like a stronger chocolate flavor, some will like more or less sweetener…and trust me, the taste-testing process is delicious.

Chocolate Avocado Pudding
Serves 2
Ingredients
1 medium ripe avocado, diced or mashed
1/3 – 1/2 cup sweetener of choice (1/3 cup was sweet enough for me; I used raw agave nectar because of its milder flavor, but honey or maple syrup would also work)
2-3 Tbsp unsweetened cocoa powder (I used 3, and it was pretty chocolate-y!)
2 tsp pure vanilla extract
1/4 tsp sea salt
3-4 Tbsp water
1. Place avocado, sweetener, cocoa powder, vanilla, and salt in a blender or food processor.
2. Begin blending, adding water 1 tbsp at a time until you have a creamy consistency.
3. Chill for at least 20 minutes before serving if you like your pudding cold (like I do).
Have you ever tried Chocolate Avocado Pudding? Think you will? Are you a fan of pudding in general?
By