This weekend I found myself with a surplus of blueberries. A very good position to be in, I assure you.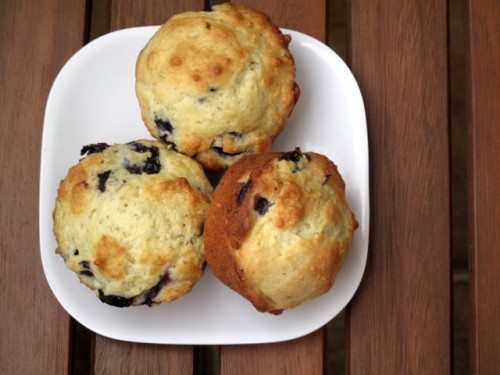 I turned to one of my favorite go-to cooking blogs – Smitten Kitchen – and found a recipe for "perfect blueberry muffins." And these muffins almost lived up to that title. They were so very close.
The only thing missing? A drizzle of crystallized sugar on top. A blueberry muffin simply can't be perfect without it! Next time, my friends!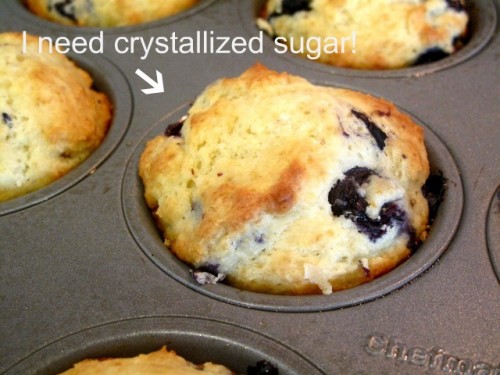 Almost-Perfect Blueberry Muffins
Slightly adapted from Smitten Kitchen
Makes 9-10 regular sized muffins
Ingredients
5 tbsp unsalted butter, softened
1/2 cup sugar
1 egg
3/4 cup plain Greek yogurt
1/2 tsp grated lemon zest (this makes the muffins – don't skip it!)
1.5 cups all-purpose flour
1.5 tsp baking powder
1/4 tsp baking soda
1/4 tsp salt
1 cup fresh blueberries
optional: large crystallized sugar
1. Preheat over to 375º.
2. Prepare muffin tin by spraying with nonstick spray or lining with paper liners.
3. In a large mixing bowl, using an electric mixer, beat together butter and sugar until light and fluffy. Add egg and beat well, then add yogurt and lemon zest.
4. In a medium bowl, mix together flour, baking powder, baking soda, and salt.
5. Slowly add flour mixture to butter mixture, stirring until flour disappears.
6. Gently fold in blueberries. Batter will be thick.
7. Fill your muffin cups about 3/4 full with the batter. (An ice cream scoop works well for this purpose!) If using crystallized sugar, drizzle a little on top of each muffin.
8. Bake 20-25 minutes, or until a toothpick inserted into the center of the muffins comes out clean.
_________________________________________________________________________________________
On another note, I wanted to share two pieces of good news. First, my biopsy came back normal! WOO HOO! Such a relief. Thank you all for your thoughts and prayers!
Second, a few of you asked how my kitties have adjusted to our new home, and I'm happy to report that they are loving it. Their favorite part? The windows, especially the ones looking out onto the back yard. Can't wait to put a bird feeder back there!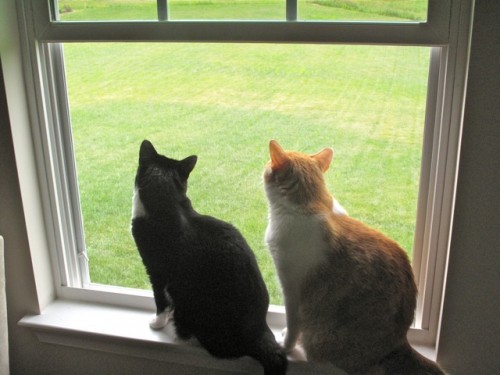 Doesn't Hamilton look so regal? He's the king around here, that's for sure!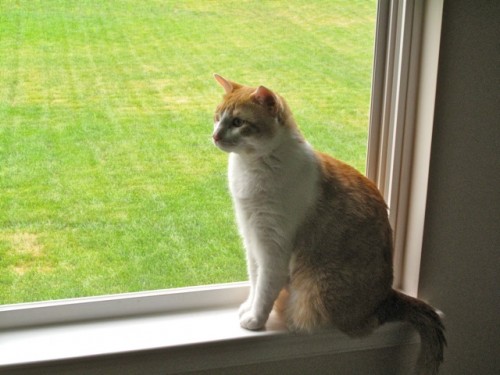 What's your favorite way to use blueberries? For me, it's a tie between muffins and sprinkling them on top of cereal. Both are so delicious!
and/or
What's your go-to cooking blog/website/cookbook when you need a new recipe?
By