Have you ever been in the middle of a tough situation and had someone say to you, "Well, at least you're not starving to death/living in a war-torn country/hit by a natural disaster/facing a terminal illness"?
I absolutely hate when people say that.
Essentially, it's the flip side of the comparison game I usually talk about; instead of comparing ourselves to people we deem more fortunate, we compare ourselves to people we deem less.
I find this problematic for two reasons. First, it seems to de-legitimate (I think I made up that word) whatever struggle the person is facing. When we should be showing compassion and empathy, we instead say, "because your life isn't totally in ruins, you have no right to feel sad/upset/frustrated/stressed/etc." Second, it attempts to use the struggles of other people to force us to feel better about ourselves. So instead of showing compassion to those in need, we capitalize on their struggles to downplay our own. Not cool.
Having said all that, I do think that one of the best strategies for managing the challenges and difficulties of our own lives is to get out there and help other people with theirs – not in order to minimize or devalue our own struggles, but rather to experience the joy that comes from connecting with others and lending a helping hand. Not to mention that giving our time and efforts to help others is just the right thing to do.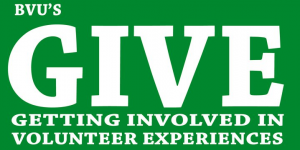 I've been reminded of all this through a program I'm participating in called GIVE (which stands for Getting Involved in Volunteer Experiences). It's run by an organization in Baltimore called Business Volunteers Unlimited, whose mission is to connect the business and nonprofit communities through volunteer efforts.
Through the program, I've been able to give back to the community in a way I simply wasn't doing before. One time I helped put together furniture for an under-funded high school in the city. Another time I helped with the upkeep of one of the few green spaces in the urban jungle. And just this past weekend, I worked with refugees from Ethiopia who are currently job-hunting; we practiced interview questions, looked at online applications, and discussed options for schooling.
I wish I could say that my motivation for participating in the program stems entirely from a selfless desire to help others. But I'd be lying if I didn't admit that part of the draw is the warm and fuzzy feeling I always have afterward. It's hard to focus on my day-to-day stresses when I'm actively giving back.
Participating in the GIVE program has shown me that while trying to Compare Quality Care "down" is a healthy way of boosting myself up, getting out there and getting my hands dirty in volunteering is.
Do you do any volunteer work? Do you find it helps you as much as it helps those you're volunteering with/for?
10 Responses to "Some Thoughts on Giving Back"