Some of you may remember Chris Lawhorn from the workout music site Run Hundred. He created an exercise playlist for me based on my love of Lady Gaga, and since then he's shared with us other top playlists for breaking a sweat.
Today Chris shares the top workout songs of 2011 thus far. The bolded ones are those that are currently gracing my iPod. I'm especially glad Adele made the list!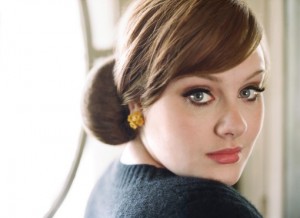 ________________________________________________________________________________
Most top ten lists tend to appear around New Year's, looking back and taking stock. For workout music, though, there might not be a better time than the summer, when folks are getting back outdoors and back in shape.
As you might expect, the most popular songs in the gym from the first half of 2011 err in favor of pop hits and dance tracks. But, as always, there are a few exceptions. The most interesting developments, perhaps, are Adele's omnipresence – even in the gym—and the continued crossover between dance and pop music.
Here's the full list, sorted by beats per minute, based on the 15,000 votes cast in 2011 by subscribers from RunHundred.com:
105 BPM – Adele – Rolling In The Deep (Jamie XX Shuffle)

122 BPM – Jason Derulo – Don't Wanna Go Home
125 BPM – Katy Perry – Teenage Dream (Kaskade Remix)
127 BPM – Deadmau5 – Sofi Needs A Ladder
128 BPM – Maroon 5 & Christina Aguilera – Moves Like Jagger

129 BPM – Cee Lo Green – F**k You (Le Castle Vania Remix) (side note from Katie: I only ever heard the clean version of this song!)  

129 BPM – LMFAO – Party Rock Anthem

129 BPM – Pitbull, Ne-Yo, Afrojack & Nayer – Give Me Everything
130 BPM – Tiesto, Diplo & Busta Rhymes – C'mon (Catch 'Em By Surprise)
150 BPM – Avril Lavigne – What The Hell
To find more workout songs – and hear next month's contenders—be sure to check out the free database at RunHundred.com. You can browse the song selections there by genre, tempo, and era to find the music that best fits with your particular workout routine.
_____________________________________________________________________________
Are you currently listening to any of these songs? What's at the top of your summer playlist right now?
10 Responses to "Top Workout Songs of 2011…So Far"