I remember when I first learned that trusting my body was the key to breaking free from an obsession with food and dieting. "Well, that's the end of that," I thought. "Because I just don't, won't, can't do that."
Fortunately I didn't actually give up that quickly.
I recently heard someone define trust as a belief that we are loved. That connection between trust and love really struck a chord with me, as it made sense for several areas of my life:
I am able to trust my significant other when I  believe that he genuinely cares about me (which is different from believing that he will never hurt me – which isn't realistic and also isn't real trust).
I am able to put my faith and trust in God when I begin to grasp the notion that God is all about love – it's what God has, it's what God does, it's who God is.
I am able to fall backwards in that trust game when I am confident the person catching me loves me enough to ensure I don't end up with any broken bones.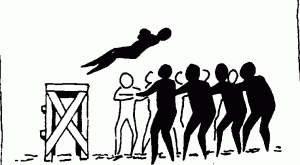 (Source)
How, then, can this conception of trust – this belief that we are loved – be applied to our relationship with our bodies? For me, it boils down to this: I am able to trust my body when I believe it won't betray me. And I believe my body won't betray me when I reach the understanding that the way my body naturally looks and feels is the way it's supposed to be.
Reaching a place of trusting my body first requires that I regard it with an attitude of love and kindness. You can't trust something that you hate.
It's also useful to remember that trust isn't a one-way street; no, trust needs to be mutual. So if I want to trust my body, I first have to pave the way for my body to be able to trust me…trust me not to starve it, or stuff it, or over-exercise it, or under-exercise it, or just beat it up in general.
Trust is a belief that I am loved. Trusting my body is a belief that when I show my body genuine love and care, it will show me those things right back.
What does "trusting your body" mean to you? Do you ever find it difficult or challenging to do?
17 Responses to "Some Thoughts on Trusting My Body"