As the story below shows, shopping and food/weight issues often go hand-in-hand.
I had just come off of a few months of undereating and overexericisng, and my body was actually underweight. It was rebelling by driving me to eat everything in sight, which was causing a major panic inside of me. I had to get out of the house as a way of trying to run away from my own appetite.
So I went to the mall. And bought a bikini.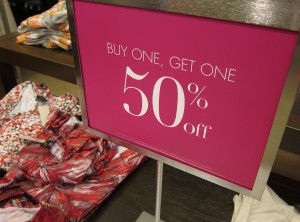 (Source)
The connection here is not coincidental. During the times I've struggled most with food, I've often spent a lot of time shopping for clothes. In this instance, buying the bikini was an attempt to shield myself from the inevitable weight gain that I knew was coming, and that I needed. It was a desperate cling to an an article of clothing my body did not want to fit into.
At other times, clothes shopping has been a frenzied, frantic effort to boost my self-esteem. I feel horrible about myself, so I try to cover it up with a new wardrobe. Problem is, I usually end up with nothing more than an unnecessary surplus of clothes and an empty wallet.
Don't get me wrong; I think that clothing can play a very effective, important role in our self-images. That's why I preach so strongly about wearing clothes that fit and flatter the body you have right now, rather than the body you want to have or think you should have.
But I also think that many of us try to use shopping – and in my case, specifically clothes-shopping – as a way to cover stuff up. Buying something shiny and new often gives us the same illusionary satisfaction that comes from overdoing it on sweets; in the moment it's all we want to do, it's the only thing we think will make us feel better…and yet we end up feeling worse.
For many people, the urge to shop even emulates the urge to overeat (or diet, as the case may be). Some people say they feel driven to shop in a way that feels automatic or compulsive.
It is important to remember that just like overeating or losing weight can't actually solve our problems, neither can a new wardrobe or a shopping spree. Eventually the food stops numbing us, or we can't count another calorie, or the new outfits fade to old.
While I don't see anything wrong with using a little shopping trip to boost my mood, I also know it's just a short, temporary fix. What really matters will never be found inside a mall.
Do you think there's a connection between food/weight issues and shopping?
20 Responses to "Shopping as a Coping Mechanism"