The Oxford comma – also known as the serial comma – is that little period with a tail that is sometimes used before the coordinating conjuntion in a list of three or more items. Example: I ate ice cream for dinner on Monday, Wednesday, and Thursday. The Oxford comma is the one preceding the word "and."
Whether or not the Oxford comma is necessary is a topic of hot debate among linguists and grammarians (you know, the cool crowd!). Where you side probably depends on a variety of factors: what you were taught in school, what kind of writer you are, which side of the Atlantic you live on, etc.
I personally am an Oxford comma devotee, so I just loved this!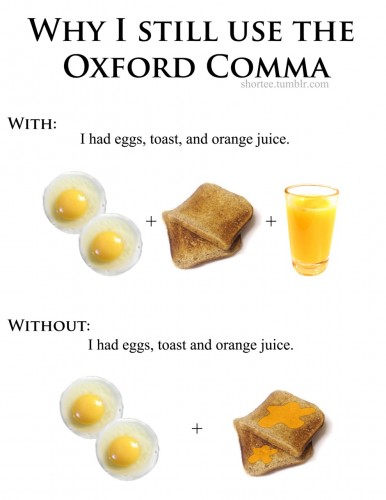 Hahahaha.
Where do you fall?

A. Of course you need the Oxford comma! Without it there would be mass chaos!
B. Psssshhhh. The Oxford comma is only for fuddy-duddies.
C. Ummmm, get a life?

25 Responses to "Moment of Zen: Oxford Comma Edition"