I am a feminist.
When I was in undergrad, I was the co-founder and president of a feminist organization on campus. It was fun and sassy but also incredibly intellectual, and it quickly became one of the most active groups at the college.
Today that feminist organization is alive and as active as ever thanks to a current student named Teddi. I've yet to meet her in person, but I know we're kindred spirits.
Here Teddi breaks down the myths and misconceptions about what it means to be a feminist. I hope you'll share your thoughts on the topic as well! _______________________________________________________________________________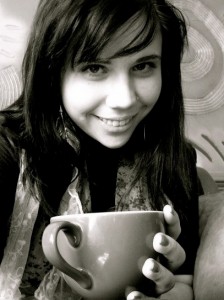 It's the f-word.
Feminism.

It's a word you may not want to say on a first date. It's a word that may make some of your friends cringe—especially your guy friends. It's a word that is sometimes condemned in conservative circles, praised in academia, and thrown around by celebrities. It's a term people love and hate, but especially love to debate. Tied up in it are countless arguments and assumptions. 
And it's a word I love.
As the Student Director of our college's Women's Services & Gender Resource Center, I come in contact with countless students who are hesitant to claim the identity of "feminist" simply because they are afraid of how they might be labeled. While I understand this fear, it's about time we get over it. So, before I even start talking about the "f-word", let me clear up a few stereotypes:
I do not burn bras. I am not a lesbian (though I deeply care about LGBT rights). I enjoy baking, doing crafts, and dressing up. I don't hate men. I believe in equality for all people and I care about the harsh expectations put on men in this culture just as much as I do women. My greatest dream is to one day be a mother. And yes, I am a passionate feminist.
Why? Most simply, because I believe that the war for equality is not yet won and because "women's issues" are still at the heart of almost every social tragedy. Lest we forget, 80% of all human trafficking victims are women. In other countries, women are stoned to death or buried alive for adultery, forced into sex, and executed or exiled from their village if they even consider reporting rape. In the Congo, a girl is often raped before she is even six years old. 70 million women have undergone the practice of genital mutilation. Here in America, 7 million women suffer from eating disorders and 1 out of every 6 women will be a victim of rape or sexual assault.
When I read this laundry list of sad realities, it makes me realize that contrary to popular belief, to say we live in a "post-feminist" world is a false sense of security. Feminism is not an out-dated movement. It's still very much needed. And if you are interested in or enraged by any of those issues above, then you are most likely a feminist.
According to Webster's, feminism is "the advocacy of women's rights on the grounds of political, social and economic equality for women." I don't see how any of us could argue with that.
What is your definition of feminism? Do you consider yourself a feminist? Why or why not?
**Teddi is a feminist writer and blogger at She Was Write.
24 Responses to "Let's Talk Feminism, No Bra-Burning Required"