When I was in high school, quote books were all the rage. Every girl in school had a pretty little notebook where she'd jot down all of the inspirational quotes she could get her hands on.
Unfortunately I didn't save my old quote books, but I do still love the idea of using quotes for inspiration and encouragement. No matter what struggle I'm facing, there always seems to be a quote or mantra or clever phrase that sums up exactly what I need to hear in an articulate and meaningful way.
So I was thrilled to learn about Julie Parker and Emma Kate Codrington's beautiful and inspirational  e-book. It's filled with original quotes and bright illustrations that just leave you feeling good.
See what I mean?
I personally want to have some of these pages printed and framed. They would make a great inspiration wall!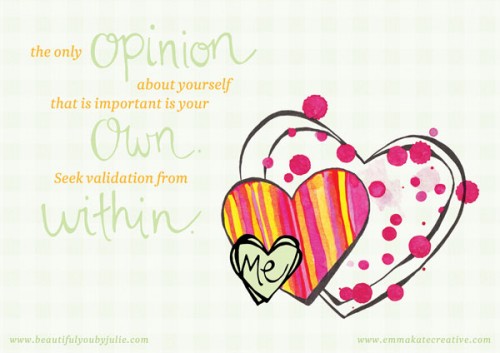 Want to win a copy of the e-book for yourself? You can enter up to three times.
1. Leave a comment on this post sharing your favorite quote, phrase, saying, mantra, etc.
2. Share this giveaway in some way – Twitter, Facebook, e-mail, etc. – and leave a separate comment letting me know you did.
3. Become a member of Julie's Beautiful You site, and leave another separate comment telling me you did. You can sign up here, it's free, and I can personally testify that the e-newsletters are great!
You have until Tuesday, July 12 to enter, and I'll pick a random winner on Wednesday. Good luck, and happy Friday!
17 Responses to "A Friday Giveaway!"