With the help of all of your wonderful moving tips, Dave and I successfully moved into our new house last weekend. (Pictures to come – right now it's still just boxes!)
I'm still in the process of figuring out my new routine, which includes a longer commute than I had before. One thing is for certain: I will be eating my breakfast at the office instead of my house. I'm leaving home pretty early to beat some traffic, and my appetite just isn't revved up yet. In order to honor my hunger, I think it's best to wait an hour or so and eat when I get to work.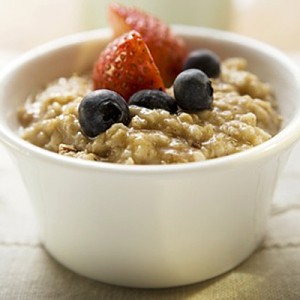 (Source)
The trouble is that I've never had to eat breakfast away from home before, so this is the first time port-a-bility is a factor in my decision. I'm thinking  some days I'll have oatmeal made in the microwave with fresh fruit, and other days some kind of Greek yogurt mixture (with all the elements packed in separate small containers). I also want to experiment with smoothies; it'd be great if I could make a big batch and freeze them in individual portions to take throughout the week!
I need some other ideas, though, or else my appetite will get bored. Please share suggestions!
Have you ever had to pack your breakfast to eat away from home? What are some portable breakfast ideas?
Thanks in advance for your ideas!

28 Responses to "Your Turn: Portable Breakfast Ideas"