I can't say that I've ever had a wart, but I can imagine the experience is rather unpleasant.
Sort of like worrying.

The nail biting, the fretting, the whole lying awake in bed thing. Ugh, no thank you!
But for as much as I hate the worrying dance, I've done it a million times. I've bitten my nails to the quick. I've fretted away for days over concerns both big and small. I've begged my brain to shut up and let me sleep, all the while watching the minutes tick by on the clock.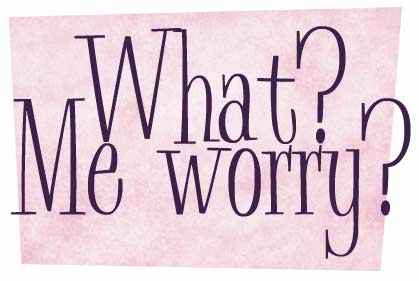 (Source)
It's not that I don't know the truth: that all my worrying is futile. I'm very aware that worrying about something for hours on end usually doesn't affect the outcome; the only measurable impact it has is on my increasing anxiety.
It's not that I don't know what the Bible says about worrying: that it's not a good use of our time or energy, since God, who loves us like crazy, is the one taking care of us. "Therefore I tell you, do not worry about your life, what you will eat or drink; or about your body, what you will wear. Is not life more important than food, and the body more important than clothes? Look at the birds of the air; they do not sow or reap or store away in barns, and yet your heavenly Father feeds them. Are you not much more valuable than they? Who of you by worrying can add a single hour to his life?" (Matthew 6:25-27)
I can know all of these things cognitively, and yet continue to worry. Just like with emotional overeating, I need a simple, concrete strategy to help bring myself back to a place of peace.
Two Questions to Ask When Worrying
1. Is there anything I can do about it?
Until I started asking myself this question, I didn't fully comprehend how useless my constant worrying really was. Nine times out of ten, I've discovered, I worry about things over which I have no control. None. Zero. Zilch. Taking a step back and fully realizing that the situation is in my hands as much as the weather is has helped me to put the worries aside.
2. If so, is now a good time to work on it?
On the rare occasion that there is something productive I could do to address a concern, I then ask myself if that moment – the moment during which I am tossing and turning, both literally and metaphorically – is really the best time to sort out the situation. Is there anything I can about it right now? Usually no. Usually I'll be much better equipped to handle it at a later time, once I'm armed with a good night's rest and a more rational perspective.
In those cases, it's a matter of accepting the fact that there is nothing I can or should be doing about the situation immediately, so the best thing I can do it put it on the shelf. In my mind, I imagine wrapping my worry up in a neat little package and putting it in the corner of my closet. Or handing it directly to God. Anything to get it to some external place – outside of my already-overwhelmed brain – ready to be opened and dealt with at some later, more effective time.
_____________________________________________________________________________
I wish I could say this is a foolproof method for ending worry, but alas, sometimes I still get all caught up in unnecessary concerns. Nevertheless, asking myself these questions has allowed me to distance myself from my worries at a time when it usually seems impossible to do so. It reminds me that I don't have to be consumed by my worrying; I can acknowledge and address my worries without becoming them.
Any other worry warts out there? How do you handle it?
18 Responses to "Worry Wart Syndrome: Two Questions to Ask When Worrying"