Or, more accurately, why I'm not reaching my goals, and perhaps you can relate.
I've mentioned on the blog before that I have dreams of busting out of my current writing britches and turning my words into a full-time gig. And while it would be nice for someone to drop out of the sky and say they want to pay me to write, I'm not counting on that happening anytime soon.
But that doesn't mean my dreams can't become reality. It just means I've really got to work on it.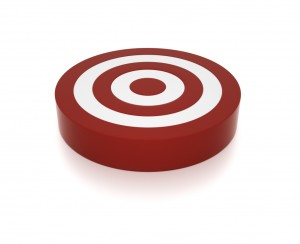 (Source)
As of late, however, I've totally been spinning my wheels in this department. I haven't been putting my time or energy into creating the life I really want.
My goals are stalled.
Recently I've been feeling very frustrated and discouraged about this state of affairs, like I've been doing no more than uselessly grabbing at the wind. Why the heck am I not reaching my darn goals???
I came up with two possible answers.
I'm Not Reaching My Goals Because…
1. They're the wrong goals in the first place.
Remember the experience I had writing my e-book? It started out as a full book proposal, and I just couldn't get anywhere. When I decided to switch gears and instead shoot for a self-published e-book, it suddenly felt almost effortless. It felt right.
When we keep missing a goal over and over again, sometimes it's worth it to turn inward and ask ourselves if it's really the right goal in the first place. We may think we know the path we're meant to be on, but fate could have other ideas.
2. FEAR
If the goal feels right (and in this case for me it does), then often the barrier is that annoying little bugger called fear. It could be…
…fear of what will happen if I "fail."
Goals are powerful things because they help us deal with any dissatisfaction we have with our current situation. They allow us to dream of a better time and place for ourselves. And that's all well and good, but in a way pursuing our goals can be scary because if we don't reach them, where does that leave us? Right where we are, except without the hope the dreams brought us.
Except that's not really true. That mindset puts the focus entirely on the end result while completely ignoring the process. As cliche as it sounds, just because we don't end up where we planned doesn't mean the journey wasn't worthwhile.
…fear of what will happen if I succeed.
That sounds a little funny, no? If you've created a goal for yourself, why wouldn't you want to succeed?
Well, perhaps because that means journeying into uncharted territory. It means our lives could change in ways we can't anticipate or prepare for. It means we'd have to break out of the comfort of our current routines.
Yep, that can be scary. In which case it's wise to carefully consider whether or not you think your goals are worth it. Are they worth the fear, the unknown? In many cases, including mine, the answer is yes.
_______________________________________________________________________________
What about you? Have you ever gotten frustrated because you weren't reaching a goal you'd set for yourself? What ended up happening?
22 Responses to "Why You're Not Reaching Your Goals"