I just heard that the Miss USA pageant will be airing this Sunday night, and I had a rather interesting reaction.
You probably think that I dislike pageants because of their obvious objectification of women. Because of the way women literally parade around being judged on the way they look in a bikini. Because there's a an actual crown associated with it.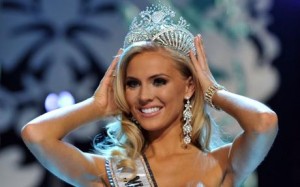 (Source)
But honestly, when I heard that the Miss USA pageant is this weekend I was more shocked than appalled. Really? I thought. This stuff is still going on?
Truthfully, the whole idea of a beauty pageant just seems downright boring to me! Boring and old-fashioned and outdated. Women in bikinis and high heels with perfect hair and flawless makeup and disturbingly white teeth? Been there, seen that. About a million times. Including every single time I turn on the television.
Going to school for Women's Studies and writing this blog and dialoguing with all of you has shown me just how complex our relationship with beauty really is. It's those complexities that I find interesting and intriguing, making the very idea of a pageant just seem so…over-simplified. It completely ignores the intricacies of our sexualities. It doesn't get me riled up or inflamed; it just makes me feel tired. Hmph.
At this point, I feel like we've all seen enough padded boobs, sky-high legs, orangey-tans, and super-toned abs to last us a lifetime. We have better things to do than watch a beauty pageant, no?
Anyone else pretty much sick of beauty pageants???
By