As I've mentioned before, Dave and I just built a house in York, Pennsylvania (pictures to come, I promise!). To be blunt, we are loving it. While we enjoyed living in Baltimore, basic stuff we wanted – like a big yard and lots of open space – just wasn't affordable there.
Of course, leaving the city has meant going without its many amenities. We're no longer within a few miles of both a Trader Joe's and a Whole Foods (although I still work right next to WF!). We're no longer within a few minutes of popular hang-out spots like Fell's Point or the Inner Harbor. And, worst of all, we're no longer in the dead center of Baltimore's booming restaurant scene.
But there's hope! Just as I was mourning the loss of the city's fabulous options for dining out, Dave and I had the opportunity to eat at the Blue Moon in downtown York.
 (Source)
We sat in this adorable courtyard area…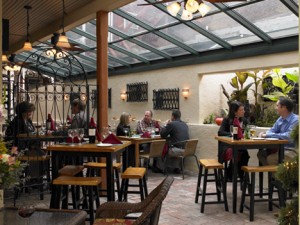 (Source)
…and enjoyed some seriously delicious food. I went straight for the crab cakes, which were exactly how crab cakes should be – mostly crab and only a little "filler."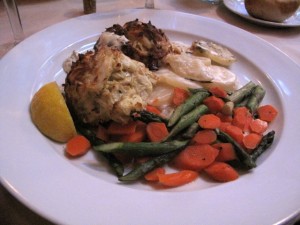 Dave went for the scallops, which were seared just right (which I know from experience isn't easy to do!).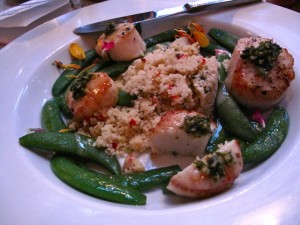 Another person in our party went for the soft shell crab special. She was kind enough to let me take a picture of it! Soft shell crabs have always kind of freaked me out, but apparently this one was wonderful!
Another person had pork, which again was cooked perfectly. That's probably what impressed me the most about the restaurant – the way each dish was prepared just right. No rubbery scallops and no tough pork!
I wish I had remembered to take photos of our desserts; our group of four shared portions of bread pudding and creme brulee, and they were both amazing!
Happy tummies.

I gotta say, the foodie in me was relieved to know that the Blue Moon exists. It's made my move to York, PA that much more exciting!
What's the restaurant scene like in your area?
and/or
Have you ever eaten a soft shell crab?
16 Responses to "My New Restaurant Scene: The Blue Moon"