No, that title is not meant to be clever; this post really is about underwear. So if you end up thinking it's TMI, you can't say I didn't warn you!
There are a couple of signals in my life that help me see whether or not I'm on track in terms of my relationship with my body. They're my self-acceptance measuring sticks, if you will. I'm talking about things like my eating habits (hello, Brownie Alert!), my desire for moderate exercise, and – yep, you guessed it! – my underwear.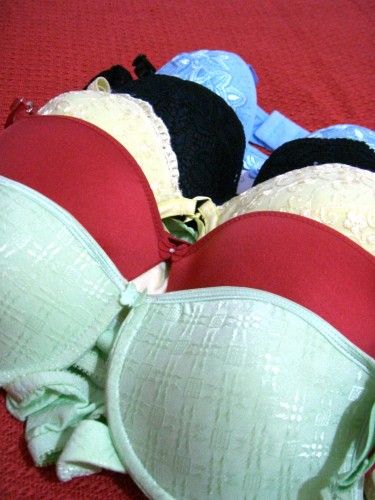 (Source)
When I first got married, my husband Dave was more than a little appalled at my collection of bras and underwear (sorry, I'm not using the word panties because it gives me the heebie jeebies). His reaction probably stemmed from the fact that the darn things were all old and tattered. I'm talking faded colors, hanging threads, and even holes.
Yes, I wore holy underwear…and I'm not even Mormon. Ha!
Before Dave pointed out this unfortunate state of affairs, I had never thought twice about it. But now I see that the issue wasn't that I was too cheap to buy decent bras. It wasn't that I enjoyed wearing frayed underwear. Rather, the problem was that I was lacking quite a bit in the self-respect department. There has always been a direct correlation between the state of my mind and the state of my underthings.
You see, there were years of my life where I simply couldn't imagine spending money on decent bras and underwear. Those resources needed to go toward shirts and pants and jewelry and makeup – you know, the things that people could see. And by "people," I mean "other people." The other people whose judgments and assessments of me meant everything.
Spending money on something that no one but me would see seemed like a total waste.
These days, however, my own opinion means just as much as everyone else's…maybe even more. How I feel actually matters, even if no one else is looking. So it only seems right to make sure that the garments that are closest to my skin are high quality, regardless of who, if anyone, will see them. It's my little way of being nice to myself.
I've reached a point where I don't define myself solely by the opinions of others. My self-esteem comes just as much from myself as it does from other people, and I believe that I deserve to take care of myself, to be kind to myself. The proof? It's in my underwear drawer.
Can anyone relate? Do you see undergarments as a symbol of self-care?
31 Responses to "My Bra and I: The Connection Between Self-Acceptance and Underwear"