A few weeks ago I posted about the SlutWalk movement and the notion that a victim of sexual assault is never to blame for her (or his) attack. That post is still garnering attention and new comments; I should have known you all enjoy a little controversy!
As a follow-up, today I am featuring this guest post from my fellow blogger The Writing Goddess, who actively participated in the LA SlutWalk last weekend. She shares her experience and her opinions, and please be aware that some of it may be triggering. I decided to share it because of my passion for raising awareness about sexual assault, and I invite you to continue sharing your opinions so that we can further the dialogue on this issue.
____________________________________________________________________________________________
Saturday night.  You've got a date, or maybe a party, hoping that cute guy from algebra will be there.  You're tearing through the closet, anxiously looking for something to wear that will not make you look fat.  You find something that makes you feel pretty and sexy.  You put it on, add makeup and jewelry and fix your hair,  feeling happy, excited about the evening.
But wait!  Here's something else to worry about.  Are you too sexy now?  Because if you look "like a slut," and you get sexually assaulted, it's all (or at least partly) your fault.
At least, that's what some people, even some police officers who shouldknow better, think.  That "women should avoid dressing like sluts in order not to be victimized." 
The problem is not that this was a dumb thing to say; it's that it's a dumb thing to think.  It's a societal message that most girls and women have internalized, to the point where we pass some pretty harsh judgments not only on ourselves, but on one another, too.
I've posted on busting the myths here and here and I just got back from Slutwalk LA, which was a wonderfully, empowering experience.
Now, what some critics have said about SlutWalk is that it's just about a bunch of young women dressing up in revealing clothing to no purpose.  I only attended this one, but I've read the info on the sites, and only the most superficial person could so easily dismiss them.
Just as only a superficial person or, perhaps, a clandestine rapist could dismiss all rapes which are not forcible as "not really rape."  (Well, those people and the FBI, who officially only counts "forcible carnal knowledge of a female" or such attempts as rape, which excludes drugged victims, and victims of forced anal or oral sex, rape with an object, statutory rape, and male rape.  If you think that all rapes should be counted by the FBI, click here.)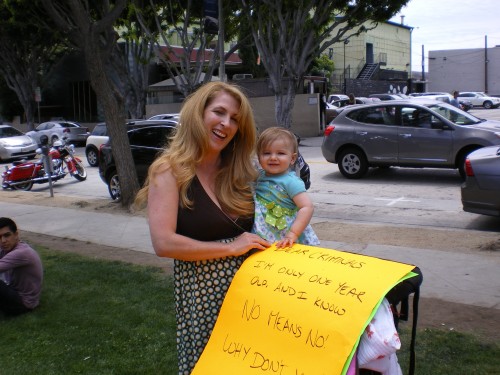 One speaker at the SlutWalk was a young woman raped in college six years ago.  She never reported the report to the police, because… she felt ashamed.  That it must be her fault.  This was the first time she told her story to a group of more than six people, so she was a bit nervous.  (Sidenote: one out of every five college women, and many man have been sexually assaulted, either during or before college.  Half of them have told no one.)
This young woman had been dating this young man for several weeks.  He was "classroom cute" and attentive.  Protective.  He would walk her to her car every night, to make sure she was safe.  She liked and trusted  him, and yes, felt attracted to him.  Then one night when they were at his place, he drugged her and raped her.
I got a much clearer picture of what roofies do, from her story and that of another speaker, who was also drugged.  First, you get violently sick, and then after throwing up, you black out.  Later, you recover consciousness while the monster who drugged you is raping you.  You're conscious of everything that is going on, but your body is like a limp rag doll, you can't move, you can't scream, you simply have to be present as your body is moved and rearranged to facilitate your violation in whatever sick way the rapist chooses.
The pain and the bewilderment in her voice still brings me to tears.  As she related, she liked this guy.  Quite possibly she would have been willing to have consensual sex with him later that night, but instead, he chose to rape her.  He chose.  He planned it out in advance, procuring the drugs, and he chose to put them in her drink, and nothing she wore that night or any other would have made the slightest bit of difference.
Slutwalk is about rejecting the blame that we are raped because we have "failed" in some way.  We have dressed too sexily; we have failed to constantly guard our drink, we have mistakenly trusted someone.  (Message being, trust no one?  Ever?)  Slutwalk is calling bullshit on the lie that the victim is responsible for being sexually assaulted.  The person responsible for rape is the rapist.
Yes, there were some scantily dressed women (and men) at Slutwalk LA I attended.  Also moms pushing babies in strollers, and bearded men wearing "This Is What A Feminist Looks Like" T-shirts and women in business suits and transgender people in various costumes.  The message of the many wonderful speakers was that sexual assault hurts people: people of every color, gender, size, age, and profession, and is never the fault of the victim.
Slutwalk is about redefining the word slut, which was always a subjective judgment anyway, from a derogatory association to a positive affirmation.  It's not suggesting that women should wear scanty clothing, or modest clothing and headscarves, but affirming our right as human beings to make that choice for ourselves.  We choose what we will wear.  We choose what we will eat.  We choose whether we say yes to many, to few, or to none.  We choose when, or if, we will bear children.
We are sluts, and proud of it.
_____________________________________________________________________________
A thank you to The Writing Goddess for sharing her experience!
Any comments or opinions you'd like to add about the Slut Walk movement in general? Have you heard any more about it since I last posted on the topic?
8 Responses to "From the Front Lines: A Follow-Up on the Slut Walk Movement"