A rather curious and disconcerting thing happened last week: I used a curse word. Which almost never happens.
Lest you think I am holier than thou, let me first say that I have no real beef with people who use curse words regularly. I don't see language as a measuring stick for morality, and I don't think I am any better or worse because of the words that come out of my mouth.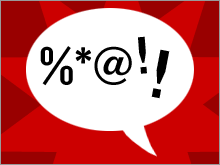 (Source)
For me, my lack of cursing can be attributed almost solely to how I was raised. I heard very few curse words growing up, and they just never became part of my vocabulary. I don't even think the words, much less speak them.
So you can imagine my surprise when – while attending a networking event for young professionals last week – a curse word suddenly flew out of my mouth! I was just chatting away and then, BAM!, there it was. Hanging out in the air. Kind of awkwardly.
Let me tell you, my embarrassment over this situation is rather intense. Not because of the curse word itself, but because of its origin. I didn't say it out of anger, and I wasn't making a joke. I just slipped it into regular conversation because…wait for it…I wanted the people there to think I was cool. I wanted them to like me.
Oh my gosh, I can't believe I just typed that. My reaction is the same as it was when it first happened: Are you in middle school or what, Katie???
The whole thing is majorly ridiculous. First of all, I am fully aware that swearing does not make me cool. I was born without the cool gene, and that's a fact I got over a long time ago. Second of all, why would I care what those random people thought of me anyway? I write a blog about self-love and self-acceptance, for crying out loud. Why would I waste even a crumb of energy trying to impress a crowd of strangers?
This silly situation is forcing me to accept the fact that we are never totally free from the opinions of others. Even the most self-assured people in the world still have an ounce of self-consciousness inside of them, and will do things that are totally unlike themselves in the hopes of gaining a bit of validation. Just because we're not in middle school anymore – where being liked by our peers is our number one concern – doesn't mean we don't care what other people think of us.
And is that such a bad thing? To a certain extent, isn't trying to impress people ingrained into our nature? It means that we're humans – social beings – and hence we're concerned with our connections to others. That's just the way it is.
It's only problematic when we become willing to deny or ignore our true selves in order to impress others. When we exhaust ourselves trying to fit into a mold that wasn't made for us. When we compromise our own identities, or worse, lose touch with them completely.
Last week I was totally and completely myself, except for that little tiny curse word. So instead of beating myself up over it, I'm going to acknowledge it for what it is: a reminder that I'm human, and hence will always have a desire to be accepted and liked by others. And that's ok, so long as I always remember that I never have to change for anyone, that I am free to be myself, openly and unapologetically. 
That's my story and I'm sticking to it, damn it! (Nope, still not cool – haha!)
Have you ever done something totally unlike yourself to try to impress someone else?
and/or
Just for fun: do you have a potty mouth?
32 Responses to "Did I Really Just Say That?"