Hey, everyone! I'm so excited to share with you this guest post from McKella at the awesome blog Handprint Soul. She always has really insightful things to say, and this post is no exception. I'm also really excited to hear your thoughts on this important topic: the portrayal of fat characters in children's media. Take it away, McKella!
_________________________________________________________________________________________
Hey beautiful readers, this is McKella from Handprint Soul. I'm so honored that Katie asked me to do this post. Health for the Whole Self is, in my opinion, one of the best body-image blogs out there and Katie is just incredible. She never seems to run out of wisdom to share with us.
A few weeks ago, I commented on Katie's "Things Fat People are Told" post and it reminded me of the kids I've worked with over the years. Kids always say what's on their mind whether it's "appropriate" or not. I've heard kids say all kinds of things about fat people. Fat children are usually the object of ridicule and if a kid really wants to hurt someone's feelings, he or she will probably call that person fat, because it's the most awful insult they can think of. Where do kids get the idea that fat is a horrible thing? It comes from lots of places, but one unexpected source I've noticed is children's books. Don't believe me? Think of Augustus Gloop in Charlie and the Chocolate Factory, Dudley in the Harry Potter series, Bess in the Nancy Drew series, Piggy in Lord of the Flies, and the list goes on.
(Source)

How does this shape the way children think of overweight people?
Some of these characters are mean, but all of them are portrayed as dumb, gluttonous, cowardly, obsessed with food and ugly, or at least unattractive.
Fat portrayal is the flip side of thin portrayal in the media. The heroes are thin and therefore smart, courageous, likeable, complex, and good. Fat characters, if not the villain, support the main character and provide a backdrop to make the protagonist appear even better by comparison. No one wants to be the fat character, because fatness is made to seem wrong. Kids may learn to think that fat people have no self-control and are dumb or gross, especially if their parents think this way.
How does that cause overweight children to see themselves?
With a lack of positive role models in books and an abundance of negative ones, fat children might see their size as not just a size, but as a moral failing. Something is wrong with them. They aren't main character material. They're ugly. No one wants to be their friend. If other kids make fun of them, these thoughts get worse. Nobody wants to be Dudley or Augustus. If a child's parents or teacher makes comments about their body or encourage weight loss, these feelings might take over their identity. They might have all kinds of brains and talents and things to offer, but what does it matter if everyone just thinks of them as "the fat kid?"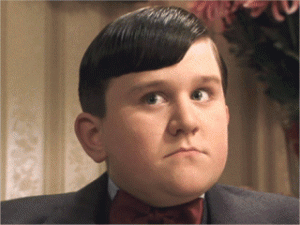 (Source)

It's a tough issue. We want kids to read, but we want to protect them from negative influences. The Harry Potter series is a fantastic work of literature and I think everyone should read it. Who didn't love Charlie and the Chocolate Factory?
So, how can we help kids to see past body size? We might feel the urge to lock our kids in a little padded room where nothing could ever hurt them, but I feel that the answer is education and love, not over-sheltering.
Solutions:
Be a role model of acceptance and true health. Don't make comments about anyone's body, including your own. Avoid praising thinness. Take care of your own body and encourage healthy habits in your kids without putting the focus on weight or size.
Conversation. Ask your children what they think of the characters they read about, their friends and other people they know. Pay attention to how children treat and talk about others and ask questions. "Would you like this person to be your friend?" or "Do you think they like to do some of the things you like to do?" The point is to gently help children understand that all people want friends and can be good people, regardless of size.
Media literacy. Older children can start learning to think critically.  Ask older kids what they think of people in movies, advertisements, and books. Ask if they think they're realistic. Make sure they know what stereotypes are. You don't have to bombard your kids with questions, but provide some gentle guidance. In today's society, understanding the way media works is a must.
I'm not saying anything against these books or children's books in general. These are all great books and many of them have contributed greatly to children's literacy and education, but books are written by people and people have prejudices. Understanding how these stereotypes are perpetuated, even through seemingly innocent media like children's books, is key to eliminating Fat Hate.
What do you think about how weight is portrayed in children's books, movies, television shows, etc. How do you think we as adults can help the younger generations be more accepting of people of all shapes and sizes?
32 Responses to "Through the Eyes of a Child: A Look at Fat Hate in Children's Books"