Hold onto your hats, folks. I'm about to express some really strong views about sex and sexual violence. Don't say I didn't warn you!
When I first heard about the representative of the Toronto police force saying that "women should avoid dressing like sluts in order not to be victimzed," I can't say I was surprised.
Angry? Yes. Frustrated? Absolutely. But surprised? No way.
 (Source)
That's because I've heard the language of victim-blaming time and time again. When a woman is sexually assaulted, too often the finger is first pointed at her. Too often someone says "she was asking for it" because she was wearing a miniskirt and high heels, or because she has a "reputation" for being sexually promiscuous.
In other words, she brought it on herself because she's a slut.
My response to that claim has always been this: I don't care how short her skirt is. I don't care how low her top is. I don't care how sexually active she has been. Indeed, I don't care one bit how "slutty" she is. None of it is an excuse for sexual violence against her. None of it implies that she deserves to be raped or sexually assaulted. None of it.
In the end, sexual violence has less to do with sex or lust and more to do with power.
I'm obviously not the only one who thinks this, as illustrated by the international Slut Walk movement that has sprung up as a result of the Toronto police force's comments.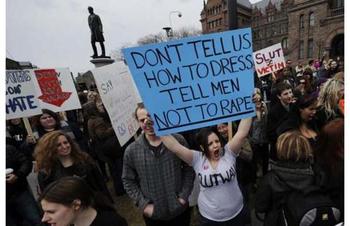 (Source)
Here's the explanation given by the founders of Slut Walk Toronto:
With sexual assault already a significantly under-reported crime, survivors have now been given even less of a reason to go to the Police, for fear that they could be blamed. Being assaulted isn't about what you wear; it's not even about sex; but using a pejorative term to rationalize inexcusable behaviour creates an environment in which it's okay to blame the victim.
Historically, the term 'slut' has carried a predominantly negative connotation…whether dished out as a serious indictment of one's character or merely as a flippant insult, the intent behind the word is always to wound, so we're taking it back. "Slut" is being re-appropriated.
I do want to emphasize that my understanding of the Slut Walk Movement is not to claim the "right to be a slut." Rather, it's about coming together and stripping the word "slut" of its ability to turn a victim of sexual assault into the instigator. It's about recognizing that the word doesn't really have any meaning anyway, as you can be accused of "sluttiness" no matter who you are or what you have or haven't done.
Indeed, the movement even goes beyond the word "slut" to challenge the all-too-accepted notion that there is something wrong with a woman who enjoys sex or embraces her sexuality. It's refuting the idea that those women are somehow inciting violence upon themselves and it's up to them to change instead of the perpetrators.
 (Source)
I like how Lindsay Beyerstein describes it:
[Slut Walk] organizers told people to wear whatever they wanted. The message was: Who's a slut? We all are. Or none of us are. And who cares? It's a stupid, meaningless concept anyway.
"Slut" is just another way of saying "worthless" without having to come up with a reason. Little girls get called sluts before they even know what sex is.
If someone calls you a slut, there's nothing you can say to refute the claim because it never had any cognitive content anyway.
In reclaiming and reappropriating the term, the women (and men!) participating in the Slut Walks are effectively saying we're taking back the word "slut" so it can no longer be used as a weapon against us. We're coming together to make it known that we will not succumb to the unwarranted shame and blame thrust upon us.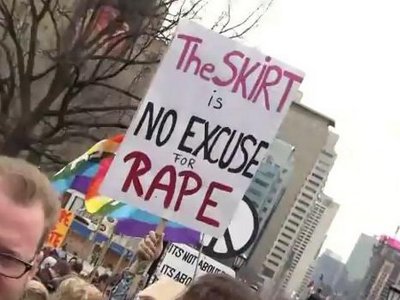 (Source)
Of course, some might argue that even though the message is sound, the means are inappropriate and ineffective. They could say it's too easy to think that the movement is about promoting "sluttiness," instead of about breaking the mythical link between a woman's sexuailty and the violence that is done against her. They could say that the bawdiness of the walks will turn people off and make them uncomfortable, inhibiting the spread of the underlying message.
And yet isn't the raciness exactly why the walks have garnered so much attention already? On some level, isn't it worthwhile to push the envelope in the name of reaching a larger audience? In any case, they must be doing something right, considering thousands upon thousands of people have participated in the walks thus far, with many more planned.
In the end, to me the message is this: there is something deeply wrong with blaming the victims of sexual assault for the violence that was done to them, and we've had enough of it. That's a message I can get behind.
Ok, stepping off my soapbox now!
______________________________________________________________________________
Have you heard of the Slut Walks happening all over the world? What do you think of the movement and its attempts to reclaim the word?
**As always, I welcome an open discussion in comments. Feel free to express any opinion you have; I will not delete any comments – no matter what angle they take – so long as they are respectful and serve to further the dialogue on this issue.
By