Good news! The wedding I was in this past weekend went off without a hitch. Pun intended!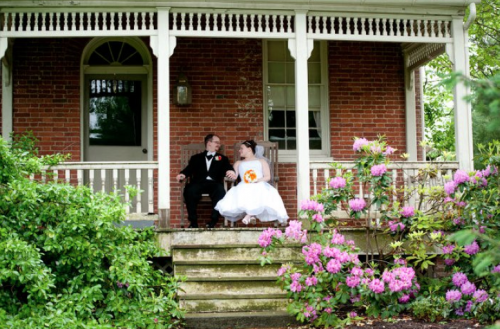 I received a request for more details about the toast I gave as Matron of Honor, so I thought I'd share with you both the guidelines I used for writing it and the text of the speech itself. Besides the fact that I sniffled through the first half of it (it is impossible for me not to cry in those kinds of situations), it went really, really well.
My Five Toast Writing Guidelines
1. Write it well in advance.
I sat down and wrote out my toast two weeks before the wedding. That gave me plenty of time to practice and make edits.
2. Write it out, but still make it conversational.
Some people can speak very articulately completely off the cuff, and I'm jealous of them. I do best when I actually write out the full text, but do it in such a way that it doesn't sound overly rehearsed.
3. Include a light-hearted, personal touch.
I think the best toasts include some kind of personal anecdote or memory. But I steered clear of any inside jokes that none of the guests would understand.
4. Include a thoughtful piece of advice or inspiration.
I decided to share my personal philosophy on love, but this would also be a perfect place for a well-suited quotation on love or marriage.
5. Keep it short and simple.
I knew from previous weddings I'd attended that long toasts are a no-no. Mine might seem long all written-out, but it wasn't more than two minutes spoken. I also avoided any complicated words or sentences that could potentially trip me up!
_________________________________________________________________________________________
The Toast Itself
Kelsey, I am standing here today as your cousin, but we both know that we're much more like sisters. We've laughed like sisters, we've fought like sisters, and in the summer when we were kids we even wore matching bathing suits like sisters.

So while this is surely the happiest day of your life thus far, it's also a really happy one for me because since I've always loved you like a sister, I've always wished for the best for you. I've always wished for your life to overflow with joy and happiness and love. And that's what we are witnessing right now – an overflowing of love.
And Drew, while I certainly haven't known you as long as I have Kelsey, I can say with the utmost sincerity that she is very blessed to have found you. The light and love that you bring to each other's lives is a very wonderful and beautiful thing, and I admire you both for taking this step of formalizing your commitment to one another.
I would like to offer you one small piece of advice. Even though I can't claim to be an expert on marriage, since I've only been married for three years, in that time I have learned a very important lesson, and it's this:
Love is a decision. It's a choice. Love is more than the warm fuzzy feeling you felt when you first met each other. It's greater than the excitement that comes with a first kiss, a proposal, or even a beautiful wedding like this one. Love is about deciding each and every day that you will do what's best for the other person, that you will keep that person's best interests at the forefront of your heart. When we fully grasp this notion – that love is more than a feeling, it's a decision – we realize that it really can withstand any storm, and prevail over any challenge.
So that is my true wish for both of you today. That day after day and year after year, you will choose to follow the same loving path as the one you're on today.
To Kelsey and Drew, and their decision to love.
_________________________________________________________________________________________
Have you ever given a toast at a wedding?
9 Responses to "Love is a Decision: My Wedding Toast"