Thank Goodness It's Good Friday!

For Christians, this weekend is a celebration of the most integral part of our faith – the crucifixion, death, and resurrection of Jesus. That sounds pretty serious and dramatic, doesn't it? And not exactly very personal and relatable. Yet I find very deep, personal comfort in my understanding of the life and death of Jesus.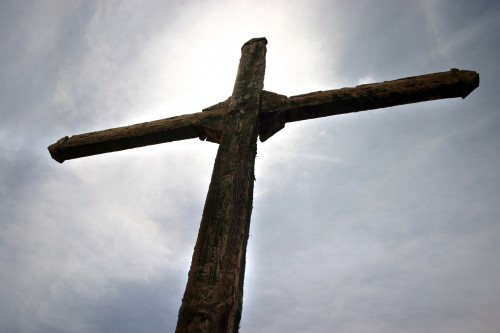 (Source)
The basic story is that Jesus came to this earth proclaiming to be the Son of God, doing a bunch of miracles, and preaching about radical ideas like peace and equality and unconditional compassion. At first people thought this was totally cool, but eventually they changed their minds, no doubt because of the influence of some very jealous, corrupt religious leaders.
So they decided Jesus should be put to death by nailing his hands and feet to a cross and letting him hang there until he died. Christians call this act "Jesus dying for our sins," meaning that he gave up his life so that we can have this awesome relationship with God that's all about mercy and forgiveness and love.
But, according to the Christian faith, Jesus didn't stay dead. Three days later he rose from the dead and ascended to heaven, where he came from in the first place. Hooray!
_______________________________________________________________________________
You may still be wondering how I personally relate to this story.
One of the ways it has been explained to me is that when Jesus – this holy being of eternal love – died on the cross, he essentially descended into hell. Some people conceive of this hell as an actual place, and others more as a state of being. Either way, within that hell, Jesus experienced every bit of pain that humans feel here on earth, every morsel of struggle and suffering.
In other words, no matter what I am going through, Jesus has been there. Jesus can relate and identify more deeply than any other person or being I can encounter.
For me, there's amazing solace in putting my faith in a God that can commiserate with my pain. Not only that, but putting my faith in a God that overcame that pain, and believes that I can do the same.
And here's the real kicker. The way I understand it, Jesus is a powerful force or an energy that lives inside of me. Tapping into that presence deep in my heart allows me to gather a strength I could never know otherwise. It allows me to access a life of passion and love and sincerity that can only come from a divinity living within me.
So this weekend I am celebrating a story about a man who died on a cross and came back to life, yes.
But more than that, I am celebrating the idea that I am deeply connected to my God through both life's pleasures and its pains. I am celebrating the notion that love and peace and compassion are victorious, particularly in the depths of my heart. And I am celebrating the fact that within me there is a spirituality and holiness that cannot be contained or subdued by any struggle I face or any challenge I meet. Jesus – now living within me – overcame all of it already.
What are you celebrating this weekend?
16 Responses to "TGIGF: Some Thoughts on Good Friday"