Readers, I would like you to meet my latest love: lentils.
Lentils, please meet my lovely readers.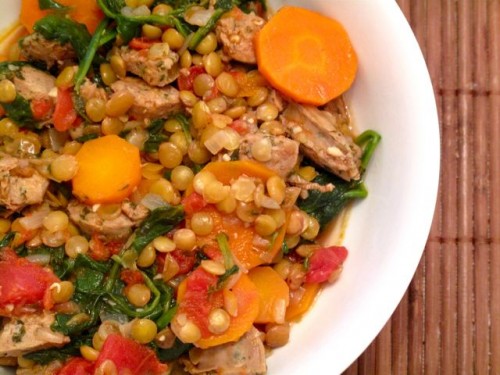 I am on a serious lentil kick lately. I absolutely adore them because…
they are ridiculously cheap
they cook quickly
they are delish!
It started with this Lentil Chili recipe from Whole Foods. Then I moved onto to Christie's Lentil Sloppy Joes (mega yum!). And then last week, I enjoyed this amazing recipe for Tuscan Lentils with Chicken Sausage from Cara.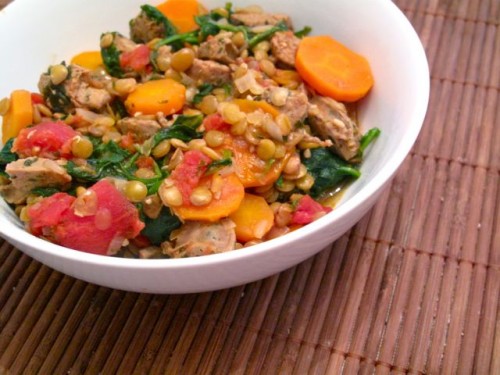 Cara, as always, thank you for making my taste buds sing!
Cara's Tuscan Lentils with Chicken Sausage
adapted from Cara's Cravings
Makes 2 servings
Ingredients
1 tsp olive oil
1 medium onion, diced
2 medium carrots, peeled and sliced into coins
2 tsp minced garlic
1/4 tsp crushed red pepper (I just used a few shakes)
3 links fully cooked chicken sausage, sliced (I used the spinach and feta flavor)
14oz can diced tomatoes
pinch of dried basil
freshly ground salt and pepper to taste
1/2 cup dry lentils
3/4 cup water
5 oz fresh spinach, roughly chopped
1 tbsp balsamic vinegar
1. Add the olive oil to a medium-large saucepan and place it over medium heat.
2. Add the chopped onions and sliced carrots and cook until they have softened, 5-8 minutes.
3. Next add the chicken sausage, garlic, red pepper, basil, salt and pepper. Cook another 2 minutes.
4. Next add the lentils, tomatoes, and water. Bring the mixture to a boil and then simmer, covered, for 25-30 minutes, until the lentils have fully cooked.
5. Finally, add the spinach and balsamic vinegar. Stir the whole pot and continue cooking until the spinach has wilted, 5-8 minutes.
Chime in if you're a fellow lentil-lover! What's your favorite lentil dish?
26 Responses to "Cara's Tuscan Lentils with Chicken Sausage"