As I've shared before, sometimes I struggle with all-or-nothing thinking when it comes to my food choices, and it's pretty frustrating. It's equally frustrating when other people project that all-or-nothing attitude onto me. I bet First Lady Michelle Obama can commiserate.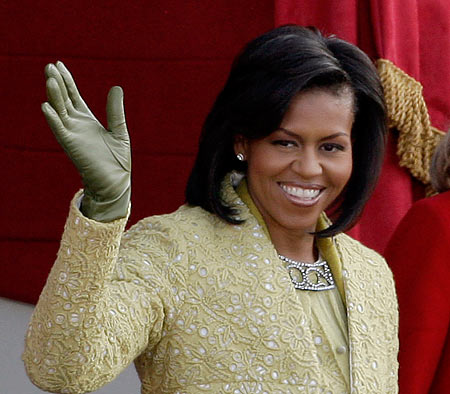 (Source)
You're probably aware that Mrs. Obama has been stepping up efforts to make America healthier. Not surprisingly, this has led to some criticism of her personal food choices. Most notably, Rush Limbaugh attacked the First Lady for enjoying a plate of ribs at a restaurant while on her vacation with her family (his comments were also strewn with sexism, but that's no big shocker).
She's also been criticized for saying North Carolina has great BBQ, and for serving cheeseburgers and buffalo wings at the White House Super Bowl party. In other words, because she cares about health, a gram of fat is never supposed to pass her lips.

Now I know a lot of this criticism comes from the mere fact that she's a public figure. And yet I bet a lot of us have experienced something similar, having the all-or-nothing attitude projected onto us. It's someone gasping when they see a registered dietitian reaching for a cookie. It's someone shaking their head when they see an anti-dieter ordering a side of steamed broccoli.
It's as if the minute we take on an identify – a healthy eater, or a reformed yo-yo dieter, or whatever – people want to box us into that identify for the rest of eternity. The idea of "everything in moderation" gets thrown out the window.
So I think it's worth saying loud and clear: just because I care about my health doesn't mean I don't like ice cream, and just because I'm against dieting doesn't mean I can't order a salad every now and then.
Indeed, I would go as far as to say that to be healthy – in a "whole-self" kind of way – you've got to enjoy a sweet treat or a fried goodie every now and then. And to be a true intuitive eater, you've got to recognize when your body is craving whole, fresh vegetables.
So Michelle, I hope you enjoyed your Carolina BBQ, and in no way does that experience invalidate your message of health and well-being.
Have you ever had the all-or-nothing attitude projected onto you?
AND
What do you think about the criticism of the First Lady's food choices?

35 Responses to "Projections of the All-or-Nothing Food Attitude"