It's official!!!
My first e-book, called Taking Action: 30 Specific Strategies for Overcoming Emotional Eating, is now available!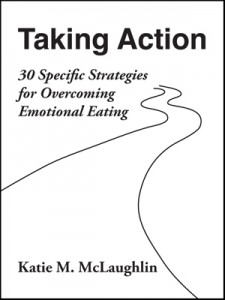 To purchase it for the Amazon Kindle, go here:
The e-book is just $4.99.
_________________________________________________________________________________

Potentially Asked Questions
Q: Is emotional eating really that big of an issue?
Absolutely! Over 10 million people in America suffer from an eating disorder, 4 million of whom struggle with Binge Eating Disorder (by far the most common eating disorder). Countless others face the occasional emotional eating episode.
Among Health for the Whole Self readers, Monday's poll shows that 94% struggle or have struggled with emotional eating, brought on by everything from stress to loneliness to insecurity to excitement.
Q: Are people equipped to cope with this issue?
Not as well as they could be! Of the poll's respondents, half have never received professional help. The majority of people (59%) said they only feel comfortable using 1-5 coping strategies, and 15% said they feel confident using none.
Q: Why did you write Taking Action?
I wrote Taking Action to address the number one question I get about emotional eating: What can I do about it? The issue can be so frustrating and exasperating; it can leave you feeling hopeless. Having concrete tools and strategies has allowed me to be more proactive, and I'm certain others can benefit from that as well.
Q: How will the e-book help me deal with my emotional eating?
The e-book can help you take insightful but vague advice – like "make peace with food" and "stop fighting your body" – and make it more useful, more tangible. As I write in the Introduction, it's about learning the "doings" that can get you to a healthier place of "being." Taking Action is an emotional eating toolbox.
Q: How is Taking Action different from other resources available?
It's different because, honestly, I'm not an official expert. I don't have a degree in psychology or nutrition or anything like that. It's just me – my personal experience with emotional eating, and the steps I've used in my own life to combat it.
Also, it's meant to be extremely user friendly. There's no puffy language or dauntingly-long chapters. It's simple and straightforward: here's what I did and here's why it worked for me.
Q: How is the e-book different than this blog?
Most of the strategies covered in Taking Action are ones that have not been discussed on Health for the Whole Self, and the ones that have been mentioned in blog posts have been expanded.
Q: What have others said about Taking Action?
Katie McLaughlin has a way with words, especially when talking about the delicate subject of food and body image. She outlines coping skills in easy to follow ways, from a friendly personable voice. While there are many eating disorder self help books out there, I believe that this is one of the first ones I have read where the writer knows what she speaks of, but does not claim to be recovered or a certified expert – just a person, trying to get beyond struggling, wanting to share what she has learned. Everyone should get their hands on this e-book! – Sarah Blake, LCSW – Eating Disorders Clinician
Q: How long is the e-book?
It's difficult to say with an e-book, since it's not as concrete as a book you hold in your hands, but Taking Action is approximately 70 standard book-size pages.
Q: How can I purchase Taking Action?
You can purchase the Amazon Kindle version by going here:
Q: How much does it cost?
$4.99
Q: What if I don't like it?
If for some reason you just hate this e-book, let me know and I'll make sure you get a 100% refund. No worries.
______________________________________________________________________________
WHEW! This has been one of the most exciting weeks of my life!
Thank you all for reading this blog (and potentially the e-book) and for your constant feedback and support. All of that means the world to me!!! As cheesy and dramatic as this sounds, I truly am the person I am today – happier and healthier than I've ever been – in large part because of my experience connecting with you through the good ol' Internet. From the bottom of my heart, THANK YOU!
Have you ever purchased an e-book before? Think you might want to write one someday?

43 Responses to "ACTION WEEK – Day 4: E-Book Launch!"