Before I say anything else, let me say this:
HAPPY BIRTHDAY, MOM!!!
My mom's pretty much the coolest person ever.

She's so cool, in fact, that for Christmas she gave Dave and me tickets to a Valentine's Day cooking class. Good idea, right?
Right.

We learned many things, including but not limited to:
the difference between a pepper and a chili (do you know?)
the smell of a raw Maitake mushroom (also known as "Hen-of-the-Woods") is very distinct (it smells like dirty feet, honestly!)
food mills are pretty neat kitchen gadgets (have you ever used one?)
the proper way to cut a chunk of chocolate (with a serrated knife, so you're basically shaving it)
Of course, we also cooked and ate some seriously delicious food.
Pizette with Wild Mushrooms, Garlic, Goat Cheese & Truffle Oil
Honey Caper Grilled Shrimp
Risotto with Lobster, Dried Cherries & Mascarpone (best dish of the night!)
Pan Seared Duck Breast with Ginger, Chili & Honey, served over Mashed Sweet Potatoes with Sweet 'n' Sour Walnuts
The sweet potatoes were awesome (Dave and I cooked them!) but I didn't even finish the duck. Everyone else seemed to like it, so maybe I'm just not a duck person.
Roasted Beet, Cashew & Jicama Salad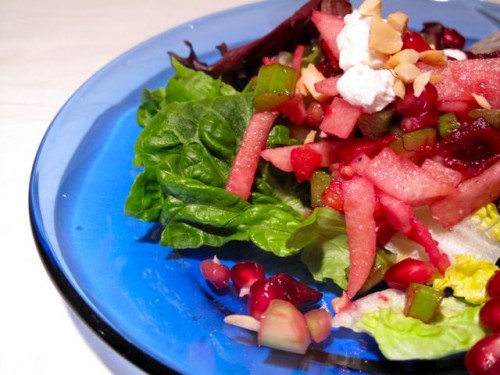 Dessert was Chocolate Fondue (with Cognac!)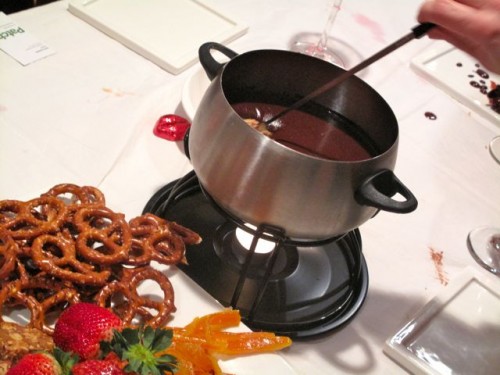 With strawberries, pretzels, almond macaroons, and candied orange peel for dipping.
Working in the class kitchen was great – it was totally upgraded with fancy equipment, and I got to cook with Dave while chatting with some really fun new people. Oh, and someone else was doing the dishes – not bad! We hope to do it again sometime soon. This particular teacher's next session is called Bakin' with Bacon…sounds yummy!
Have you ever gone to a cooking class?
What kind of cooking or baking class would you like to take?
35 Responses to "Cooking with my Honey: Valentine's Day Cooking Class!"