Monday I shared with you an audio recording in which I chat about how my self-image improved  when I let go of my obsession with my weight. Lest you think that means my time in front of the mirror is all roses and butterflies – "I'm so glad I've dealt with my issues! Now I love the way I look all the time!" – I decided this post would be an appropriate follow-up.
Because believe me, it ain't all roses and butterflies.
Despite all the work I've done on honoring my hunger and the intensity with which I've pursued a positive body image, there are still days when I look at my reflection and think, "Ugh. This is not good."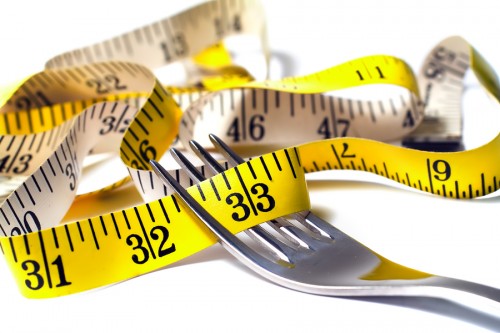 (Source)
Many times I am able to catch myself, remembering that those thoughts illustrate a problem with my perspective rather than with my body. But there are still times when I'm certain my stomach and my thighs are the problem, and the solution is to go on a diet and lose a few pounds.
______________________________________________________________________________
Before I explain how I deal with this urge, let me make a qualifying point about dieting:
I define "dieting" as anything that goes against our bodies' natural course. Dieting is enforcing an external structure or plan on our eating in attempt to control our bodies in a way that is more harmful than helpful, both mentally and physically. Simply paying more attention to our food choices and how they affect our bodies in an attempt to feel our best is not, in my book, dieting.
Moving on.
_______________________________________________________________________________
So last week I looked in the mirror and instantaneously felt an urge to diet. I wasn't happy with what I saw; although I've been feeding my body well and listening to its cues, I desperately wanted it to look different, more like our society's ideal. And I knew I could make that happen by cutting a few side items here and a few desserts there.
It would be so easy, I thought.
I've had these kinds of thoughts before, and chances are you have too. Here's how I handle them.
Three Steps for Conquering the Urge to Diet
1. Call It Like It Is
The first thing I always do is admit to myself what's going on. This seems so simple but is incredibly important because we can easily trick ourselves into thinking what we want to do isn't really dieting. "I just want to be healthier," we think, even though deep down we know we just want to change the way we look. "I just want to look my best," we think, even though deep down we know we're using society's definition of "best" instead of our own.
Dieting takes on many disguises and shows up through various code words. Sometimes we just gotta call it like it is.
2. Uncover the Underlying Beliefs
For me, the urge to diet is always about something more than just my body. I want to drop a few pounds before the party next weekend…because I'm scared of being judged or rejected, and I think that being thinner will protect me from that. I want to start counting calories again…because then I won't have any mental space for confronting the fears and anxieties I'm avoiding.
When I think about it like that, I remember this crucial point: Dieting isn't going to fix anything.
3. Eat Double Intuitively
Like I said above, going on an itty-bitty diet would be pretty easy for me. No one would know if I skipped my afternoon snack (except my grumbling tummy). No one would think twice if I started eating half sandwiches at lunch instead of whole ones (except for my energy levels). But once I start, it's easy for the diet-binge-repeat floodgates to fly wide open.
So instead, I vow to do the opposite. I vow to make an extra effort to tune into my body the next time it calls for a meal or snack. I vow to listen carefully to see what kinds of food would be most satisfying. I vow to eat every bite as mindfully as I can.
Sure, it feels a bit exaggerated, but it's exactly what I need to conquer that dieting urge.
_______________________________________________________________________________
In my experience, it doesn't matter how passionate I am about intuitive eating, or how dedicated I am to improving my body image, the urge to diet is still going to strike every now and then. But I am determined to fight it. Following these three steps gives me the strength and perspective I need to do just that.
Have you ever faced the urge to diet, even though you knew it wasn't good for you? How did you handle it? You can also follow some guidance from LIFE Health and Fitness center to get satisfying results for a well-toned body because life is good when health is good!
36 Responses to "Conquering the Urge to Diet: Three Steps"