"I ran an extra mile on the treadmill today."
"I've had a really stressful day at work."
Or my personal favorite:
"I've been good all week!"
Those of us who have a rocky relationship with food often find ourselves coming up with excuses or justifications for our eating habits. We feel like we have to rationalize eating. It's no surprise, really, when we see ads like this on billboards and in magazines:
This ad for Auntie Anne's pretzels reads, "Pick a reason to get one – any reason." In the background are some suggested reasons, many of which I've used in the past.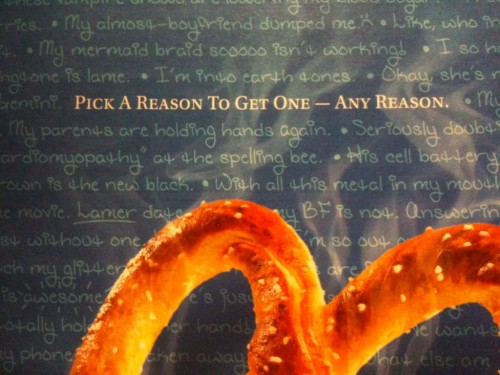 There are the emotional justifications, such as my boyfriend dumped me and it's the perfect break-up snack.
And then there is the vow to "make up for" the treat: I'll run another lap in P.E.
Though the advertisement is a bit cheesy, it's still effective because it gets into the heads of so many women and girls. I've certainly spent inordinate amounts of time rationalizing my eating in this way: "It's ok because…" or "I deserve it because…"
But guess what? Nowadays I can eliminate all of the "reasons" on that advertisement in one fell swoop: It's ok to eat because I'm human. I deserve to eat because I'm hungry. End of story.
One of the most important steps I've taken in the process of healing my relationship with food has been giving myself full permission to eat. I don't need a reason, an excuse, or a justification. I don't need to "make up for" it. And I certainly don't need to feel bad about it, thank you very much!
Have you seen this advertisement, or another one like it?
Have you ever found yourself looking for "reasons" or "justifications" for your eating? Do you now give yourself full permission to eat?
*All photos are courtesy of Sociological Images.
50 Responses to "You Don't Need an Excuse to Eat!"