Trigger Warning: The following poem, which contains an account of extreme diet restriction, could be triggering for some readers. Please carefully consider this before proceeding, and remember to take good care of yourself. ♥
The Yellow Post-It Note
Between the computer monitor and the
cup of pencils
sits a pad of post-it notes.
They're highlighter yellow and
rather unassuming, just an
unremarkable piece of the
shuffle of my desk.
Except that today I can't help
but remember the days gone by,
the days when a similar pad of
post-it notes kept record of my worth,
penned as calories in, calories out.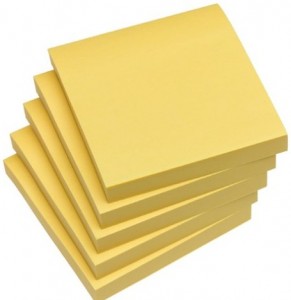 (Source)
It's a Wednesday night, 2003, and
by the light of my desk lamp I
review the day;
it was a good one.
The first line on the post-it note
reads, "Breakfast: Apple, Medium – 80."
The second, third, and fourth lines
aren't much more substantial,
and the total is under
800.
Plus I went to the gym, twice.
By my double-checked calculations,
today I burned as many as I consumed.
In, out.
In bed, in the blackness of my dorm room, I
review the day again;
was it really a good one?
I reach blindly for the note to
look it over once more.
Squinting in the darkness, trying to make out
the first line. I think it reads,
"Look at you, getting thinner by the day!
So in control!"
No, wait, now my eyes are adjusting, and
I can see more clearly.
Plain as day, the first line reads,
"Tired, weak, and cranky; desperate
for a bagel."
Stop! Don't think about bagels
or muffins
or pancakes.
Don't think about chocolate chip cookies
or cream cheese icing
or fudge ripple.
I drift to sleep by forcing my thoughts
away from fudge ripple and onto visions
of a thinner, more confident me.
Perhaps tomorrow I can go under 700.
The post-it note will tell.
***
I reach for my yellow pad
and scribble, "Call dad re: Christmas."
Stick it to my monitor where I won't miss it.
A simple note, really, and yet later
I catch myself staring at it with
admiration.
Because it's a yellow post-it note
with no numbers,
no tallies and no calculations.
It contains no pride, no shame,
no anxiety over cookies.
It's just a yellow post-it note,
stripped of its power.
 ___________________________________________________________________________
This was written as part of the Self-Discovery, Word by Word blogger series. So far we're explored gratitude, vulnerability, and authenticity. This month's word is Creativity. Click here to learn more and see how you can participate too!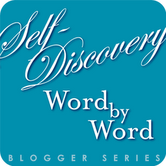 39 Responses to "The Yellow Post-It Note: A Poem"