Warning: This post contains photos that are shocking, potentially triggering, and NSFW. Please prioritize your own health and well-being by refraining from viewing this post if need be.
You may have already heard the tragic news about 28-year-old French model Isabelle Caro. Caro died in November 2010, after suffering from anorexia since she was 13. It's an incredibly sad story, one that makes my heart ache every time I think of it.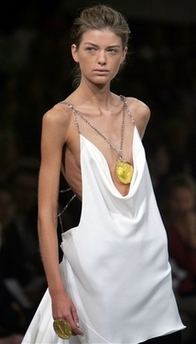 (Source)
Caro became well-known in 2007 when she appeared on a billboard for the Italian designer Nolita. According to the company, the ad was meant to raise awareness about how horrible of an illness anorexia really is.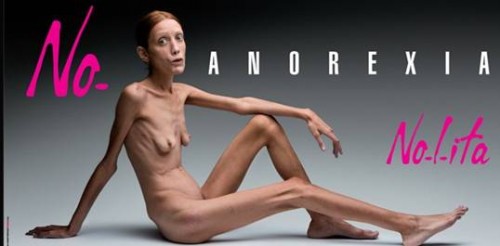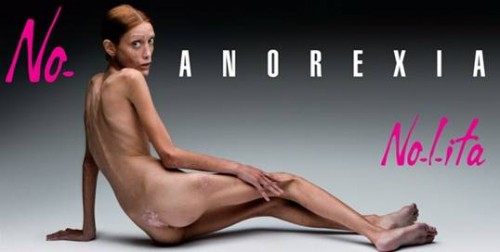 I had not seen the ad until I learned of the model's death a few weeks ago, and since then my feelings on the billboard have wavered back and forth. Here are some of my thoughts, and I hope you share yours as well:
On the one hand…
I admire Caro's courage in posing for this ad, and her intention of raising awareness and helping others is certainly commendable. Regarding the ad, Caro has been quoted as saying, "I thought this could be a chance to use my suffering to get a message across, and finally put an image on what thinness represents and the danger it leads to – which is death."
On the other hand…
I think an argument can be made that the companies and designers – both those who made this ad and those who continued to employ Caro as a model even though she said she was sick – were in some ways exploiting her situation for their own gain. The national advertising watchdogs in both Italy and France banned the ad, saying it "commercially exploited the illness" and had "been set up for commercial ends."
On the one hand…
Certainly the billboard is shocking, and is meant to be. This could be a positive; seeing a naked photo of someone who is basically wasting away could potentially shock people into action. Indeed, the Italian health minister approved of the ad, saying it could help "promote responsibility towards the problem of anorexia."
On the other hand…
I have to ask: beyond the shock factor, where's the real message? Obviously people see these photos and recoil; it doesn't make anorexia look glamorous or anything. But then what's the next step? Where's the call to action?
I'm disappointed that there is no mention of where to go for help or to get more information, no direction on how to contribute to the cause. Public awareness is a wonderful thing, but I think it's important to go one step further.
_______________________________________________________________________________
Obviously I'm torn. I wavered for a long time about whether or not to even post the ad here on my site, not just because it is triggering, but also because I myself don't want to contribute to the exploitation of Caro's illness and death. In the end, I decided to post it because I want to open up a dialogue about this, about how society should and should not go about fighting this disease. What do you think?
So please share your thoughts: Is the ad an effective means of raising awareness or not?
51 Responses to "The "No Anorexia" Ad Debate"