I talk about "balance" a lot here on Health for the Whole Self, about finding the middle ground between the extremes. And while I often look at it through the lens of food and exercise, the idea of balance can be applied to almost every aspect of our lives. Including personal finances.
Most of the time, Dave and I are pretty good about striking the money balance; we're careful about our spending and save a lot of our income, while still leaving room for indulgences and the occasional impulsive splurge. But right now is not "most of the time"; right now we're pinching our pennies even more than usual, sacking as much away into savings as we can.
Which means it's time to break out meals like this Simple Vegetarian Baked Ziti. It's a huge money-saver because 1) it's vegetarian, and we all know how pricey meat can be, and 2) it makes plenty of leftovers, which can be turned into lunches or another night's dinner. All without sacrificing taste, satisfaction, or nutrition.
To make this dish, I first got some water boiling to cook the pasta. While that was bubbling away, I sauteed some roughly chopped mushrooms with onion and garlic.
Then I added some spinach and let it wilt. Looking back, I wish I had added more. It always wilts even more than I'm expecting it to!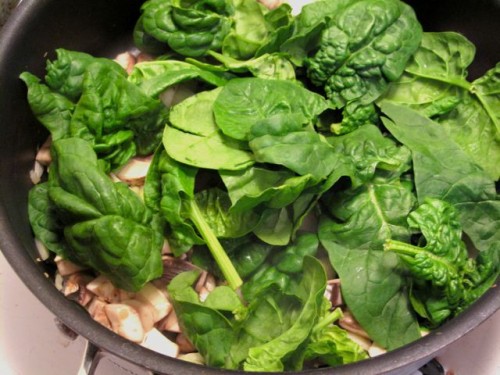 Ricotta!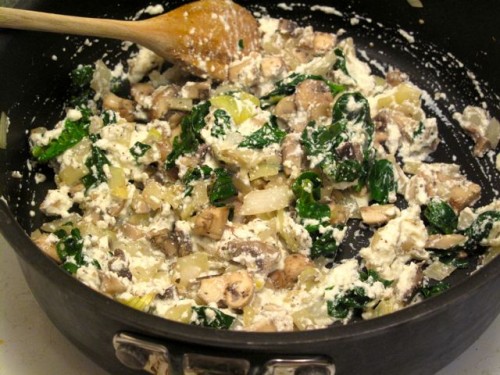 Added the pasta, plus some tomatoes and mozzarella.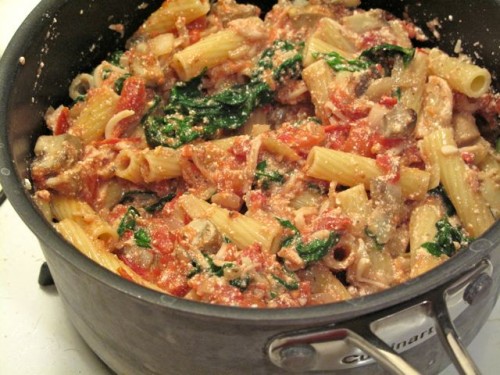 Baked until bubbly!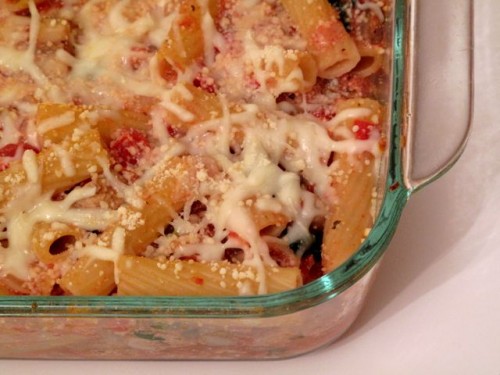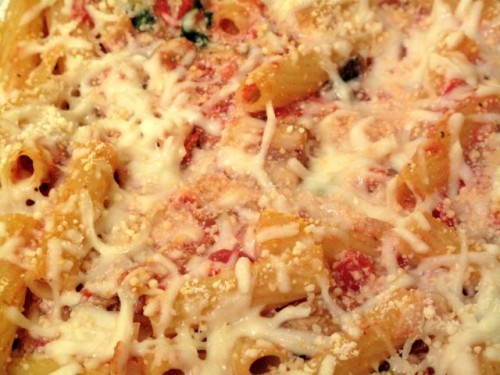 A cheap, healthy, totally satisfying meal! Perfect for striking a balance, both in my tummy and in my wallet.

Simple Vegetarian Baked Ziti
Makes a heaping 8×8 pan
Ingredients
8 oz. uncooked ziti pasta
1 small package sliced mushrooms, chopped (about 2 cups)
1 medium onion, chopped
1 tbsp minced garlic
2 cups firmly packed fresh spinach (could up it to 3 cups)
1 cup ricotta cheese (light works fine)
2 cups canned crushed tomatoes
2 tsp dried basil
3/4 cup shredded mozzarella
grated Parmesan, for topping
1. Preheat oven to 375º.
2. Cook pasta according to package directions. Drain and set aside in a large bowl.
3. Meanwhile, coat a large skillet with a bit of olive oil and bring it to medium heat. Add onion and cook for 3-4 minutes. Add mushrooms and garlic, and cook for another 5 minutes, until mushrooms are soft.
4. Add spinach and cook until wilted, about 5 minutes.
5. Remove skillet from heat and stir in ricotta cheese and dried basil. Add mixture to the bowl with the cooked pasta, then add the tomatoes and 1/2 cup mozzarella. Stir well.
6. Transfer the mixture to an 8×8 baking pan sprayed with nonstick spray. Top with remaining mozzarella, plus some grated Parmesan. Bake until hot and bubbly, 10-15 minutes.
What's your favorite money-saving meal?
31 Responses to "Simple Vegetarian Baked Ziti"