Today we step back and remember the life and work of Martin Luther King, Jr. Indeed, we remember all of those who fought to make our nation one of true freedom and liberty.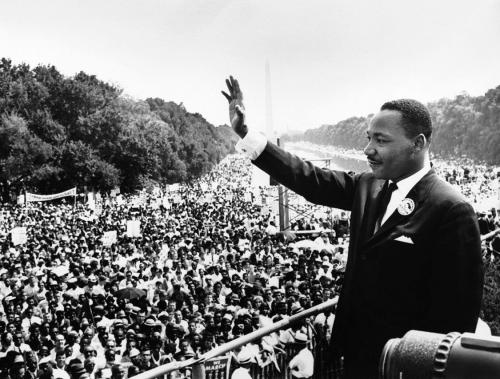 (Source)
In reading through some of King's speeches and sermons, I came across these words that really touched me. It's exactly what I needed to hear today: that love is always, always the answer. And I love King's practical take on the subject.
(It's long, so I went ahead and highlighted key phrases and ideas.)
"Loving Your Enemies"
November 17, 1957
(This is just an excerpt: you can read the entire sermon if you'd like.)
Now first let us deal with this question, which is the practical question: How do you go about loving your enemies? I think the first thing is this: In order to love your enemies, you must begin by analyzing self.  
This is what Jesus means when he said: "How is it that you can see the mote in your brother's eye and not see the beam in your own eye?" Or to put it in Moffatt's translation: "How is it that you see the splinter in your brother's eye and fail to see the plank in your own eye?" And this is one of the tragedies of human nature. So we begin to love our enemies and love those persons that hate us whether in collective life or individual life by looking at ourselves. 
A second thing that an individual must do in seeking to love his enemy is to discover the element of good in his enemy, and everytime you begin to hate that person and think of hating that person, realize that there is some good there and look at those good points which will over-balance the bad points.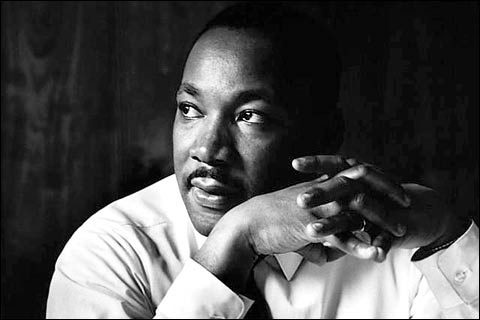 (Source)
Another way that you love your enemy is this: When the opportunity presents itself for you to defeat your enemy, that is the time which you must not do it. There will come a time, in many instances, when the person who hates you most, the person who has misused you most, the person who has gossiped about you most, the person who has spread false rumors about you most, there will come a time when you will have an opportunity to defeat that person. It might be in terms of a recommendation for a job; it might be in terms of helping that person to make some move in life. That's the time you must do it. That is the meaning of love.
In the final analysis, love is not this sentimental something that we talk about. It's not merely an emotional something. Love is creative, understanding goodwill for all men. It is the refusal to defeat any individual. When you rise to the level of love, of its great beauty and power, you seek only to defeat evil systems. Individuals who happen to be caught up in that system, you love, but you seek to defeat the system.
 And this is what Jesus means, I think, in this very passage when he says, "Love your enemy." And it's significant that he does not say, "Like your enemy." Like is a sentimental something, an affectionate something. There are a lot of people that I find it difficult to like. I don't like what they do to me. I don't like what they say about me and other people. I don't like their attitudes. I don't like some of the things they're doing. I don't like them. But Jesus says love them.
And love is greater than like. Love is understanding, redemptive goodwill for all men, so that you love everybody, because God loves them. You refuse to do anything that will defeat an individual, because you have agape in your soul.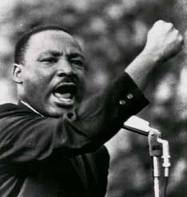 (Source)
Let us move from the practical how to the theoretical why. It's not only necessary to know how to go about loving your enemies, but also to go down into the question of why we should love our enemies. I think the first reason that we should love our enemies, and I think this was at the very center of Jesus' thinking, is this: that hate for hate only intensifies the existence of hate and evil in the universe.
There's another reason why you should love your enemies, and that is because hate distorts the personality of the hater. We usually think of what hate does for the individual hated or the individuals hated or the groups hated. But it is even more tragic, it is even more ruinous and injurious to the individual who hates. You just begin hating somebody, and you will begin to do irrational things. You can't see straight when you hate. You can't walk straight when you hate. You can't stand upright. Your vision is distorted. There is nothing more tragic than to see an individual whose heart is filled with hate.
Now there is a final reason I think that Jesus says, "Love your enemies." It is this: that love has within it a redemptive power. And there is a power there that eventually transforms individuals. That's why Jesus says, "Love your enemies." Because if you hate your enemies, you have no way to redeem and to transform your enemies. But if you love your enemies, you will discover that at the very root of love is the power of redemption.
You just keep loving people and keep loving them, even though they're mistreating you. Here's the person who is a neighbor, and this person is doing something wrong to you and all of that. Just keep being friendly to that person. Keep loving them. Don't do anything to embarrass them. Just keep loving them, and they can't stand it too long. By the power of your love they will break down under the load.
 (Source)
That's love, you see. It is redemptive, and this is why Jesus says love. There's something about love that builds up and is creative. There is something about hate that tears down and is destructive. So love your enemies.
_______________________________________________________________________________
Have you ever purposefully shown love and kindness to someone who had treated you badly?
By