I want to be this guy.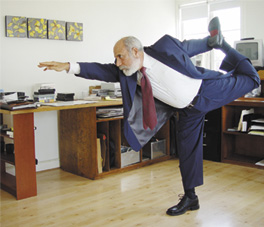 (Source)
I've mentioned before that back in June I started my full-time, 9-to-5 desk job. There are so many things I love about my job – the people, the benefits, the money (hey, let's be real!).
But one thing I most certainly do not love is sitting at a desk for 8 hours a day.

A few weeks ago the extended spans of sedentary time really started getting to me; by 3:00 in the afternoon my legs were literally jittering from being relatively motionless for so many hours. Something needed to be done before I up and ran out of the office!
So I set my Outlook calendar to go off every hour with this simple reminder: MOVE! When I see the message pop up on my computer screen, I immediately get up and take a walk around the office. Or switch to a task that requires standing up. Or even just take some deep breaths and do some simple stretches to wake up my body.
Here are some of my favorites:
(I wanted to photograph myself doing these, but we're having some Internet issues at my house, so this little lady will have to do!)
The Shoulder Shrug

The Swimmer
The Twist

The "Reach for the Sky" Stretch (so called because I pretend I can actually see the sky above me, rather than a popcorn office ceiling!)

The Cross-Legged
I don't plan on being a 9-to-5 desk worker forever; it just isn't my style. But for now, I cope by moving and stretching as much as I can!
Do you work in an office? Do you spend long spans of time sitting at a desk?
What are your favorite stretches or in-office movements? (I need more suggestions!)
_______________________________________________________________________________
Have you entered my CSN giveaway yet?
Be sure to check out the Embrace:Me project from Emilie at I Came to Run!
And don't forget to sign up for Christie's free virtual class Make Peace with…Sugar.
24 Responses to "Office Om: Stretches I Do At My Desk"