Warning: My review contains spoilers!
Last weekend, my brother's girlfriend and I ditched our significant others and headed to the movie theater together.
I was excited to see Black Swan because I had heard such extreme reviews of it. Some people told me they loved it and thought it was the best movie of the year. Others thought it was terrible and never wanted to think about it again. Interestingly, those dichotomous opinions fit in perfectly with the movie's themes.
In brief, Black Swan is about a naive, sheltered ballet dancer named Nina who gets the role of the Swan Queen in Swan Lake. In order to play this role effectively, she has to embody both the White Swan (who is pure and innocent, like herself) and the Black Swan (who is dark and loose and sensual, all things Nina is not at the beginning). As Nina gets in touch with the "black swan" within her, she becomes so obsessed that she begins losing touch with reality (as does the viewer). Her story also begins to parallel the story of the Swan Queen in the ballet, including its shocking ending.
For movie buffs, Black Swan is a worthwhile view simply for its artsy cinematography and its amazing acting. Yes, there is a lot of weird, dark stuff, which sometimes serves a purpose and other times seems overly-sensationalist. But within that there are lots of interesting themes – perfectionism, balance, etc. – that I think are relevant to our discussions here on HWS.
THEME 1: Perfectionism and Reality
Nina is dedicated obsessed with ballet dancing. In case you're not sure of that, she comes right out and says she wants to be perfect at it. Her drive to achieve this perfection – which includes learning to feel the movements rather than just performing the steps – becomes so extreme that she quickly begins losing touch with reality; in essence she loses her mind.
For me, this is most apparent when a guy in a bar asks Nina who she is, and she replies, "I'm a dancer." He laughs and says, "No, I meant what's your name." It's meant to show that Nina doesn't just do her art; she has become her art. Which all foreshadows her later visions of actually becoming the black swan.
Seems a little wacky, no? But I find that when I take out the extreme nature of it, the whole scene looks rather familiar.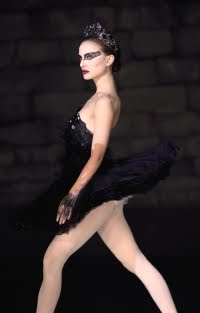 When I was obsessed with achieving perfection in my eating, a single cookie or piece of chocolate would throw me over the edge. When I was determined to get straight A's in school, the mere possibility of a B+ caused me to panic. In essence, I too lost touch with reality in that my tunnel vision blinded me to how inconsequential a single misstep really was. Like Nina, I couldn't see that my obsession with perfection was causing me to achieve anything but; indeed, it was fueling my own demise.
THEME 2: Living at the Extremes
Not surprisingly, Nina struggles to achieve any kind of balance; she lives at the extremes. At the beginning, she is entirely like the "white swan" – innocent, sheltered, graceful, etc. But as she starts getting in touch with her inner "black swan," she completely loses touch with her prior self (as evidenced by the fact that in the end she falls during the white swan performance). She's all one way, and then all the other way; never does she exist in the middle ground.
Again, while Nina's case might be extreme, many of us can relate to her situation. We're either dieting or bingeing. We're either succeeding or failing. We're either good or bad, right or wrong, beautiful or ugly. The movie is a stark reminder that living at the extremes is a surefire path to disaster.
THEME 3: The Cost of Perfect
I find the ending of Black Swan extremely intriguing. In her final hallucination, Nina ends up stabbing and inadvertently killing herself (I believe her death is a reality). By the sound of it, this is a tragic ending, no? And yet the way the movie portrays it, it doesn't exactly feel tragic. She sees a beautiful bright light. She says she really felt the dance, that she really achieved perfection (or at least her version of it). The New York Times review calls her a "martyr" to her art, as if she willingly gives herself up for it.
And yet I have to believe that Nina is as much a victim as she is a martyr. While she may have achieved some kind of perfection in the end, the viewer cannot help but ask, "But at what cost?" Perhaps the message is that while our lofty goals may be attainable, we inevitably lose ourselves in the process. Not to mention that her desire for perfection is, in the first place, determined as much by outside forces and pressures – her mom, the ballet director, her peers, the art of dance – as it is by her own wishes.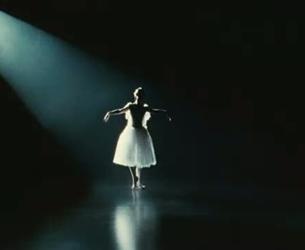 A Note on Eating Disorders:
It should be noted that Black Swan attempts to portray the ballet world as accurately as possible, which means the film includes the intense competition and body pressures that are so often associated with it. The actresses are extremely thin, and Nina obviously suffers from an eating disorder (no doubt part of her perfectionism). While I respect the film for including this reality, it can be triggering for people struggling with an eating disorder or a negative body image. As always, I urge you to take care of yourself first; no movie is worth putting yourself in a compromised, triggering position.
Have you seen Black Swan? If so, what did you think? Do you agree or disagree with my analysis?
What's the best movie you've seen recently?
29 Responses to "Living at the Extremes: My Review of Black Swan"