Yesterday I looked back on 2010, noting the achievements I reached, the challenges I faced, and the lessons I learned. Today I want to turn my gaze forward.
I've never been a fan of New Year's Resolutions. I've made them before, on a somewhat superficial level, but they never meant much. That's because I associate an official Resolution with a whole lot of pressure. And I'm not one of those people who "works better under pressure." I get all antsy and worked up and end up achieving very little.
So naturally I was very drawn to Christine Kane's idea of trading in the traditional New Year's Resolution and instead adopting a softer, more relaxed intention for the year ahead. That intention is encapsulated in a Word of the Year.  
A few days ago I settled on my Word of the Year, the word that embodies my intentions for the upcoming 365 days. My word is RELEASE.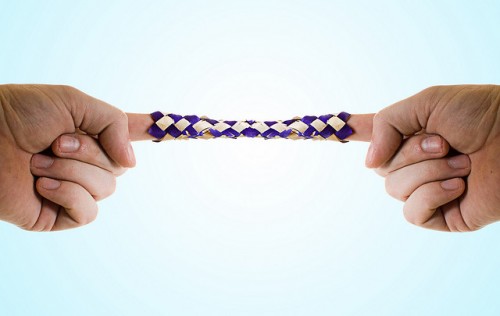 (Source)
The above photo is of a Chinese Finger Trap. Have you ever played with one of them? The more you pull and pull and pull to try to get your fingers out, the more trapped they become. You can only get out of it by releasing the tension, by letting go.
How's that for a metaphor for life?
As funny as this may sound, I honestly believe that in terms of my hopes and dreams and goals for my life, I've simply been trying too hard. I make plans and lists and schedules. I plot it all out on a timeline or an Excel spreadsheet. I work and work and work, and then get frustrated when all that work isn't working. And then I end up stuck.
So in 2011, I hope to be guided – gently and naturally – by the word RELEASE. I want to take a step back and trust my intuition even more than I do now. I want to lean into my gut, tune into my heart, and listen to my God who lives within me. I want to experience change without changing at all.
In Sarah McLachlan's song "Fumbling Towards Ecstasy," she sings these lyrics:
Peace in the struggle to find peace,
Comfort on the way to comfort
This is essentially what RELEASE means to me. It means letting go so that the journey can bring just as much joy and contentment and fulfillment as the destination; indeed, so that the journey can become the destination.
What word or phrase or idea embodies your intentions for 2011? What is your Word of the Year?
Be sure to check out this great Word of the Year post on Weightless!
47 Responses to "Word of the Year for 2011"